Having a good-quality adhesive is essential because not all glues have the same feature. Also, it may not be suitable for all types of applications. Both E6000 and JB Weld adhesives are ideal for their features. When it's about E6000 Vs. JB Weld, there are differences you should know.
E6000 is the glue for industrial strength, and JB Weld is for repairs and DIYs. Both types of glue are suitable, but the E6000 is the most affordable one. It works on the leather too. Also, JB Weld has better strength.
Want to know more about these two adhesives? Then let's check the details first.
Read More: E6000 Vs. Gorilla Glue
Read More: E6000 vs. B7000
E6000 Vs. JB Weld
About E6000
E6000 is a unique adhesive that uses a gas self-leveling formula with great industrial strength. The bond is used on rubber, metal, masonry, leather, plastics, wood, and vinyl. It has water, dilute, chemicals, and acid resistance. Also, it is flexible and can significantly strengthen the materials.
E6000 works amazingly on soft surfaces or for hose connectors. It has good elasticity. So, it spreads on the area perfectly. It provides high-performance drying and washer-safe facilities. If you want to use it on craft or DIY projects, the E6000 is a good one to have a permanent bond.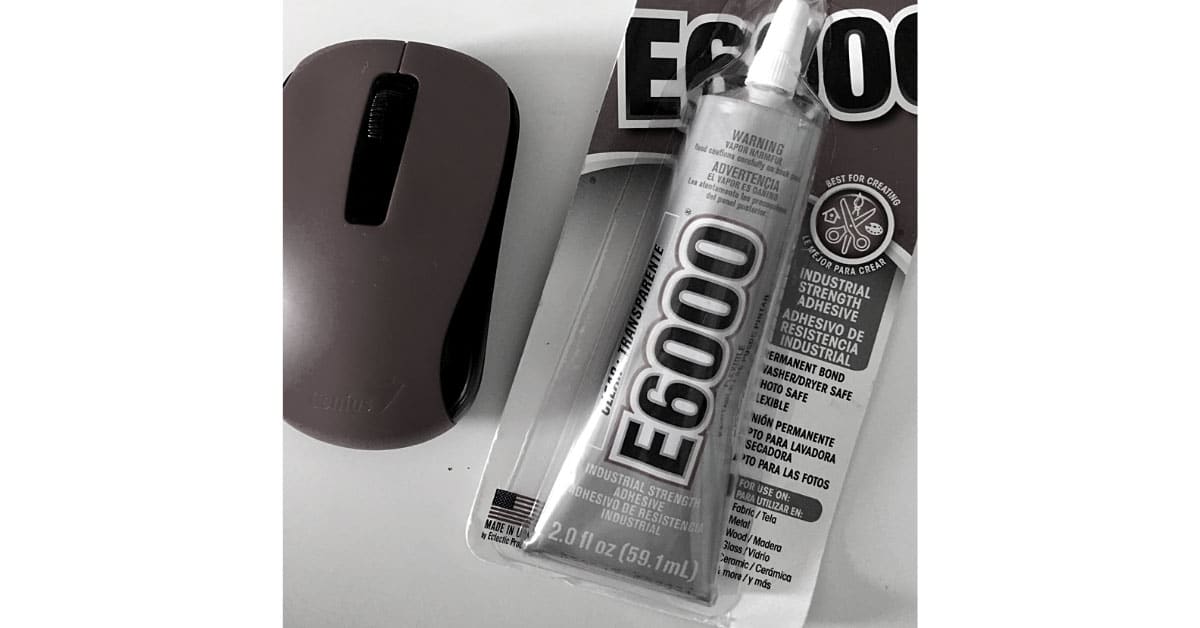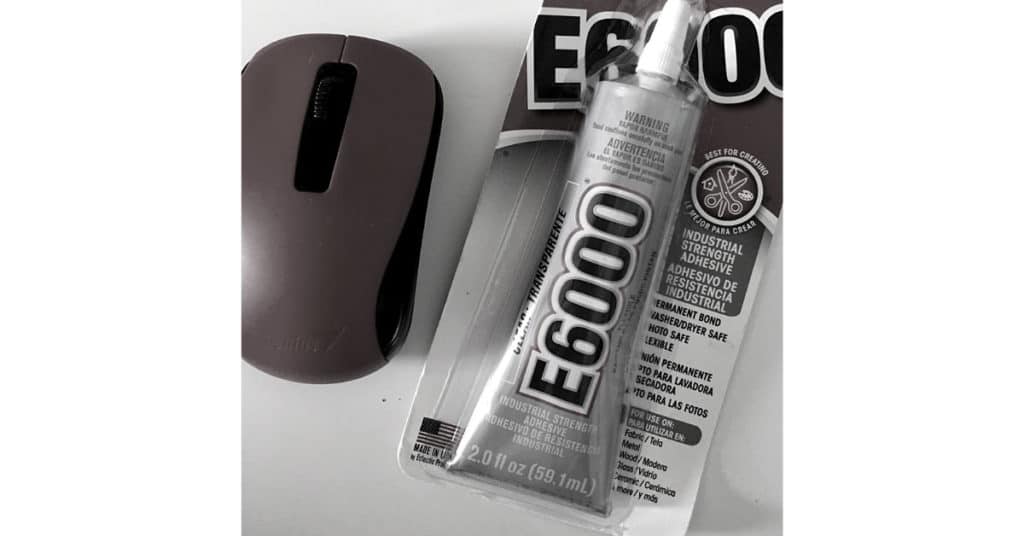 E6000 Strength Test
E6000 has a strength of 3,500 psi. It is safe and chemical-resistant to most materials. Moreover, the specific gravity is from 1.35 to 1.37, and the viscosity is 50,000 to 200,000. It takes up to 4 minutes to dry.
E6000 Glue for Fabric
Another good quality of E6000 glue is it works well on fabrics. The FABRI-FUSE quality creates an extraordinary bond on the material. The stretch, flexibility, and recovery process are amazing. As a result, it allows the fabric to keep its flexibility. It gets acid-free, dries clear and includes no odor.
E6000 Glue Price
The price range of the E6000 is around $3-$5. It is a budget-friendly glue that works for a lot of projects. If you want an affordable adhesive, you can go with E6000. It is chemical, acids, and water-resistant, that is beneficial for fabrics as well. 
E6000 Glue Cure Time
After applying the E6000 adhesive, it takes only 2 minutes to get tacky and set adequately within 10 minutes. Also, it cures within 24 to 72 hours, although it depends on the humidity or temperature. You can also use a dryer to provide heat and set it up instantly.
E6000 Glue Instructions
When using E6000 glue, first, the surface should be dry and clean. Make sure there isn't any dirt. Puncture the tube and apply the glue to the needed areas. Allow the place for 24 hours to cure and 72 hours for full strength. 
Read More: E6000 Vs. Super Glue
About JB Weld
JB Weld is an adhesive considered the strongest bond in the world. It is suitable to use for any repair job. It is mainly a two-part epoxy glue ideal for materials like metal, glass, ceramic, porcelain, wood, fiberglass, paper, concrete, marble, PVC, ABS, fabric, and more. It is good to withstand high-temperature environments.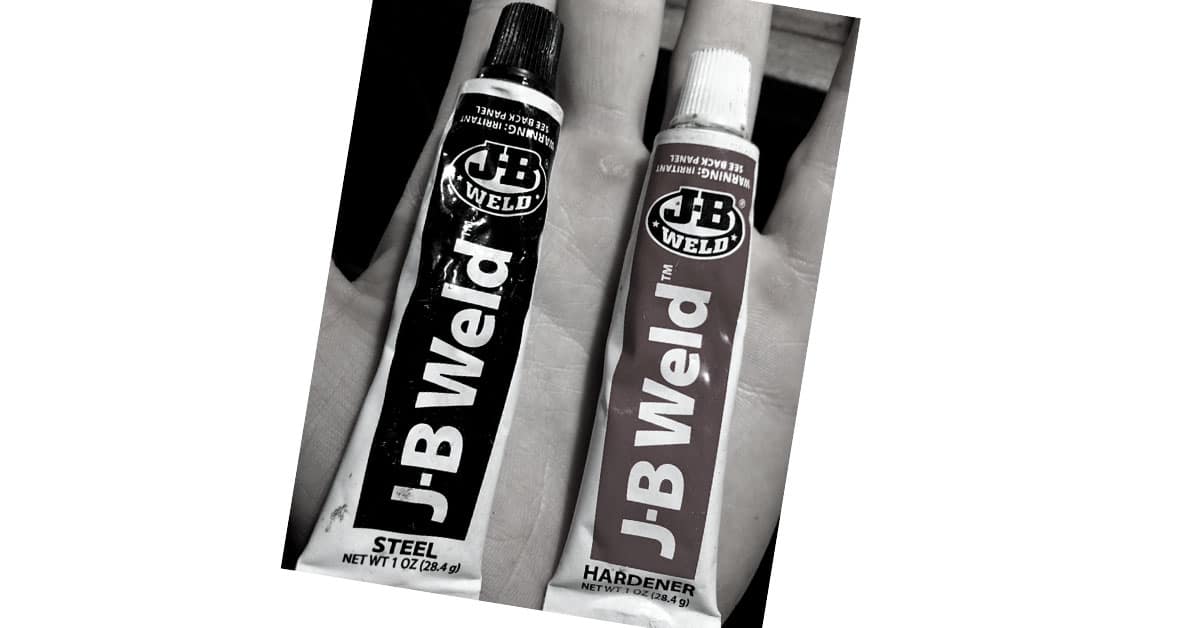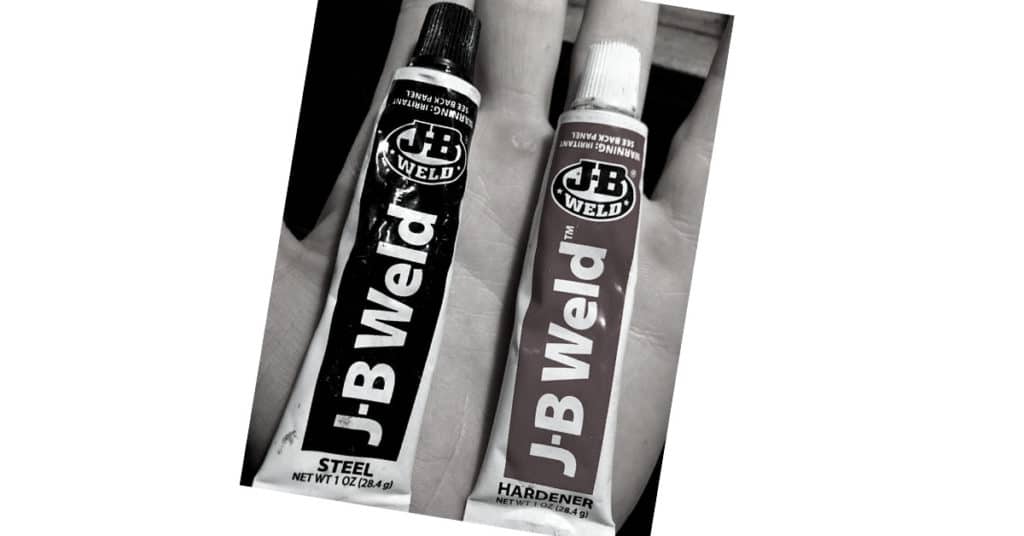 JB Weld Strength Test
JB Weld is the strongest glue of all. It is considered "The Original Cold Weld." The reason is it is an alternative to torch welding. The tensile strength is 3960 PSI. The design is to make it effective in any environment. As it is a two-part epoxy, it can deliver the strongest bond.
JB Weld Glue for Fabric
JB Weld is suitable for fabric. It is popular to provide an excellent bond to the surfaces. The best thing is you can get incredible strength without damaging it. The process is easier with JB Weld to use on fabric.
JB Weld Glue Price
The price of JB Weld is $8.25, that is a bit higher than the E6000. JB Weld is a good option if you don't have any problem with spending much. But if you are looking for an affordable one, then this is not the best one. 
JB Weld Glue Cure Time
JB Weld is a two-part glue, so it needs to be mixed in a 1:1 ratio to form a permanent bond. It can be filed, tapped, shaped, drilled and sanded once properly cured. You can make it work at any temperature. JB Weld takes 4-6 hours to set and 15-24 hours to reach its full strength.
JB Weld Glue Instructions
JB Weld works better on a dry, clean, and oil-free surface. You need to mix two equal parts of the product and mix well. Apply the product evenly and shape it as required after setting it. After 4-6 hours, it properly sets, and your work is done.
Read More: JB Weld Vs. Epoxy
What Is The Difference Between E6000 And JB Weld?
There are a lot of differences between E6000 and JB Weld. E6000 is suitable for industrial applications. On the other hand, JB Weld is good for repairs. Both are good for fabrics, but E6000 is also great for leather. It may not be the strongest, but it is better than any two-part adhesives.
Besides, the E6000 takes much more time to dry than JB Weld. It works pretty well on wood hulls and fiberglass. JB Weld is better to work temporarily to patch the leak in the weld. E6000 is more affordable than JB Weld. Overall, the E6000 is better than JB Weld.
You can also check the comparison between JB Weld and super glue to have a clear vision about glues.
Last Opinion
Both types of glues are suitable because of their features. E6000 glue is affordable, and JB Weld has a lot more strength. When it's about E6000 Vs. JB Weld, you should go with JB Weld if you want much strength. E6000 is good for having industrial strength at a low price.
Get the information before buying any of them. Hopefully, you get the best outcome that you desire.