If you want to know about the better adhesive, you must go through all the details about hot glue and E6000 glue. Here, we will share some necessary information explaining hot glue vs. E6000.
Hot glue and E6000 are two good-quality adhesives with a lot of different features. These have water and chemical-resistant features with a fast-drying formula. To know more, let's check the details first.
Read More: E6000 Vs. Gorilla Glue
Read More: E6000 Vs. E6000 Plus
Hot Glue Vs. E6000
About Hot Glue
Hot glue is a strong and effective method to stick to different purposes. It is excellent for DIY surfaces. Hot glue is used through a glue gun. It helps to warm up the stick, and you can get the superb effect of hot glue. The use process is to insert a hot glue stick into the gun and let it get warm. Now, you can use it.
After applying the glue, it should be dried properly. It dries clear and delivers a strong bond. Hot glue contains polyethylene, ethylene-vinyl acetate (EVA), ethylene-methyl acrylate (EMA), polyamide, polyesters, and polyolefin.
Hot glue is ideal for porous and rough surfaces. From any DIY projects to tougher ones, you can do it all with hot glue.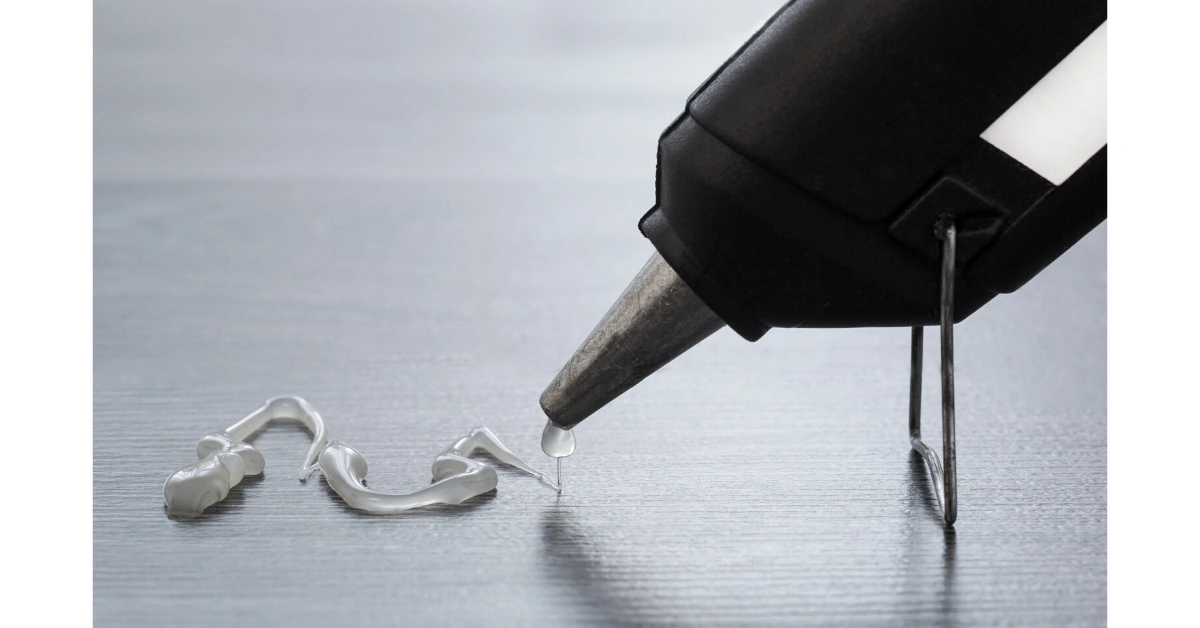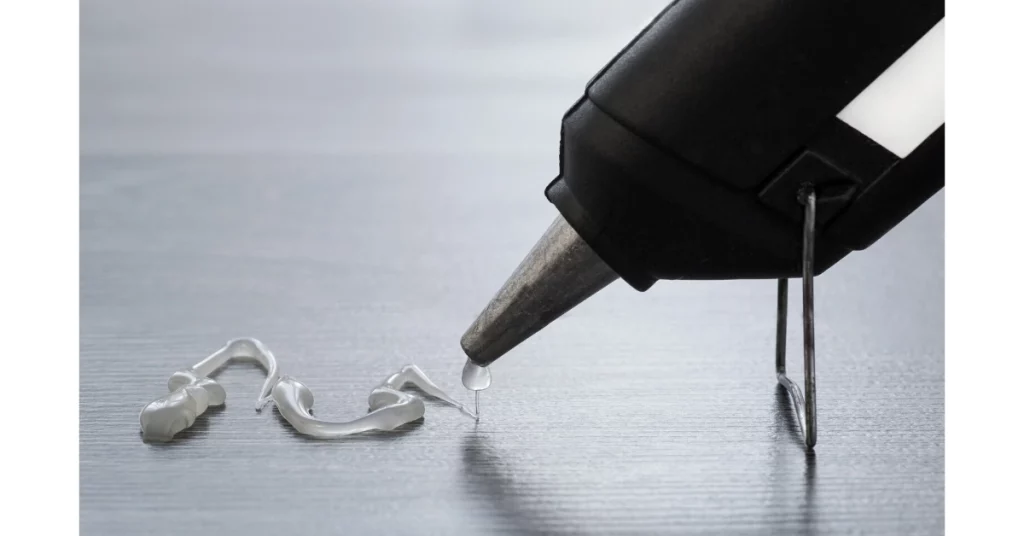 Read More: Floral Glue Vs. Hot Glue
About E6000 
E6000 is an industrial, self-leveling adhesive that is used for a lot of surfaces. It is suitable for rubber, metal, masonry, leather, vinyl, wood, plastics, and more. It is a flexible adhesive with water, dilute bases, chemicals, and an acid resistance facility.
It is a clear silicone glue. E6000 is waterproof, non-flammable, paintable, and dryer/washer safe. However, you should be careful when using glue. Make sure the glue won't touch your skin, as it is harmful. If it accidentally touches your skin, rinse it with water for some time.
Also, E6000 can cause headaches, dizziness, and nausea. If you are careful when using glue, there are a lot of advantages to using adhesive for a lot of purposes.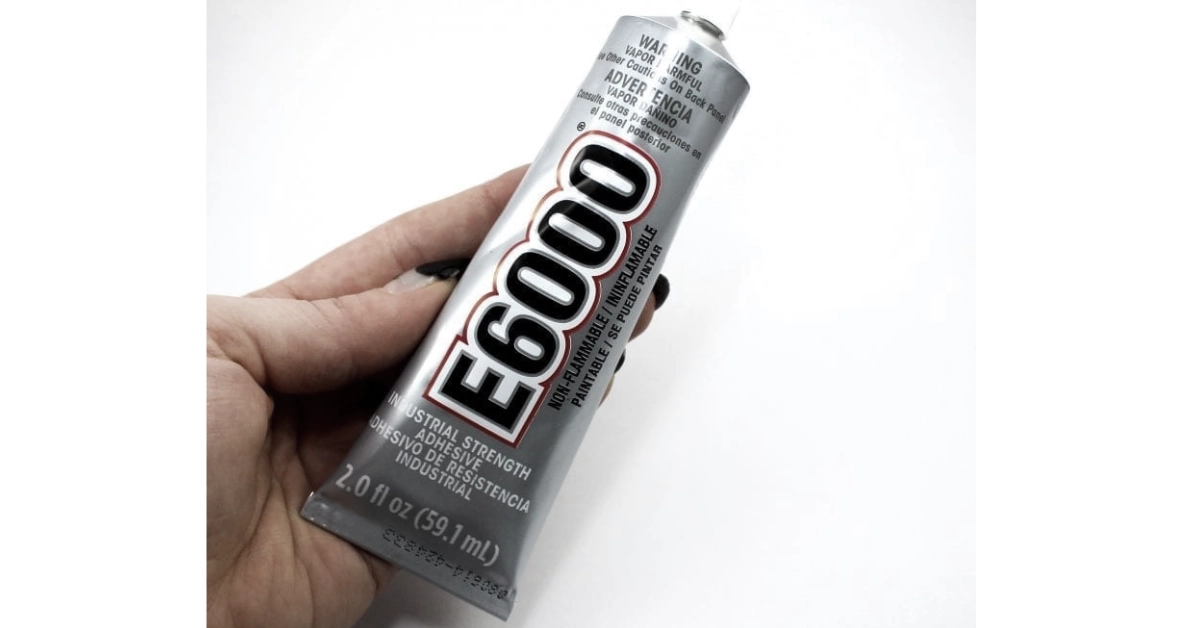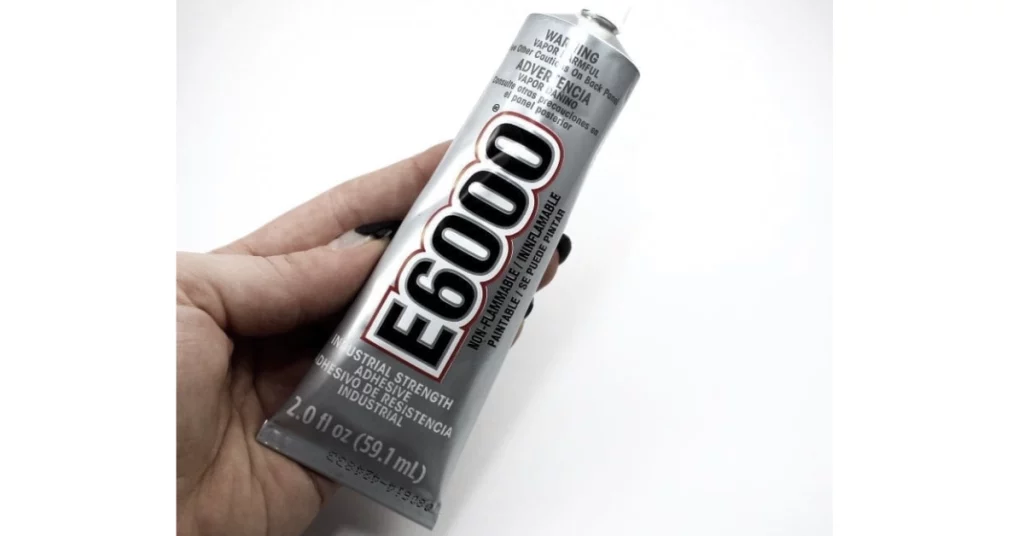 Read More: Hot Glue Vs. Super Glue
Comparison Between Hot Glue And E6000
Hot glue and E6000 glue are both high-strength ones. But these don't work the same way. Both are different from each other. There are some facts that you should know to be sure what the better one is. Check the information first.
Usage
Hot glue is used to bond a lot of surfaces. It is even suitable for bonding uneven surfaces. It needs a glue gun device to heat and use for incredible strength. Hot glue is ideal for filling gaps or textured areas. The compatible materials are wood, plastics, paper, fabrics, and shells.
Besides, you should use a low-temp hot glue gun if the material is styrofoam or polystyrene-type plastics. Hot glue is paintable. So, you can use it for cosplay items or any creative crafting.
On the other hand, the E6000 is more compatible with glass and metal bonding. So, if you want to bond metal to glass, E6000 is the ideal one. It is also suitable for DIY repairs. Both types of glue can do many things, but their purpose is different.
Advantages
Both hot glue and E6000 are good enough to do many things. These have various good features that make the task easier. Hot glue is a quick-drying adhesive. It is easy to use on uneven surfaces too. If you don't want to go with drilling, hot glue is a better option.
Moreover, you can apply it directly on the surface without any damage. You can adjust it later on. On the other hand, the E6000 is also a fast-drying glue with many more features. It has a heat-resistant facility. You can get a strong bond if used correctly.
Drawbacks
Although there are advantages, there are some drawbacks or caution that you need to know. The E6000 is a bit stringy. It can be a bit messy. When it's about hot glue it is dangerous for the skin. It can burn the skin as it is hot. Besides, hot glue is not heat-resistant and dries too fast. It can make it a bit messy.
In an overall sense, both types of glue are suitable. You need to know which one is for which purpose. You can also know the E6000 vs. contact cement to learn more about E6000 and the comparison with different products.
How to Use E6000 And Hot Glue Together?
You can use E6000 and hot glue together. If you want a faster drying facility, mix a bit of hot glue with E6000. E6000 glue is extremely strong but takes a lot of time to dry. To do instant glueing and long-lasting formula, add hot glue with E6000 and mix them well. Apply the mixture on the surfaces and you will surely get a good outcome.
Read More: Goop Glue Vs. E6000
What should you not use E6000 for? 
You should not use E6000 for polyethylene, polystyrene, and polypropylene plastics.

What glue is better than hot glue? 
Tacky Glue reigns better than hot glue as it is more versatile. It is excellent to adhere to almost anything. 
Last Opinion
Now that you know all about hot glue guns and E6000, you can choose the better one for your job. Go through the hot glue vs. E6000 comparison, then get the suitable one. Also, check the customer reviews of both types of glue, then buy accordingly.
Hopefully, you will get better results.