Would you like to find the perfect adhesive for your tiling project? Your tiles must stay put for years, so adhesive plays a crucial role in the long run.
VersaBond and Mapei are two popular tile adhesive brands. VersaBond may be a good choice if you are working with standard-sized tiles and do not require the highest bond strength.
Mapei Ultraflex 1 may be better when working with large-format tiles, requiring high bond strength or accommodating substrate movement.
Both companies are well-respected in the industry, but each has its own unique qualities that could make one better suited to your project. You have to consider the specific needs of your tile installation project when choosing VersaBond vs Mapei.
Read More: VersaBond LFT Vs. VersaBond
Read More: Schluter Set Vs. All Set
Versabond Vs. Mapei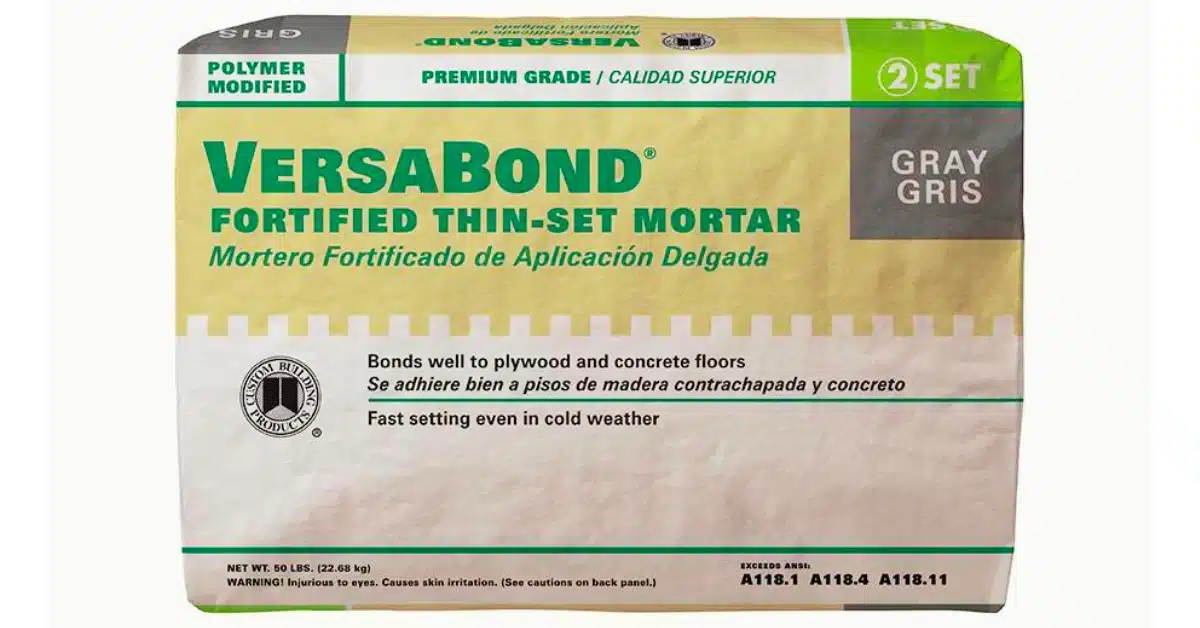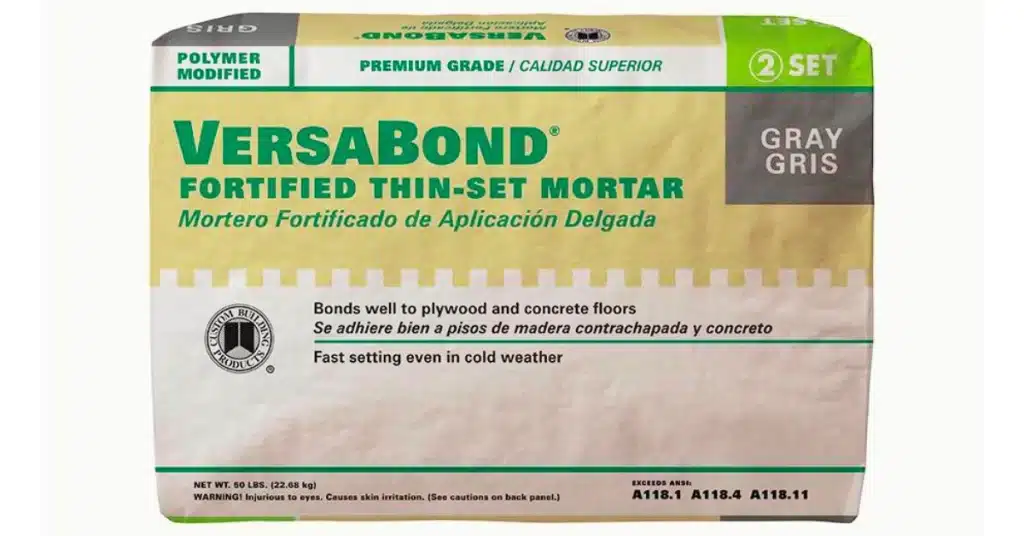 About VersaBond Professional Thinset Mortar
Versabond is an all-purpose thinset that can be used on both tile and floors. Its polymer modification makes this thinset mortar a good bonding agent for tile and floor projects. It dries even in cold weather and has great bond strength. Its professional formula makes it an ideal choice for heavy loads in high-traffic areas like commercial interiors.
Versabond has the advantage of having a longer working time. Therefore, stirring the mixture after five to ten minutes ensures an even distribution of the contents. Additives are not necessary to make it adhere to most surfaces. It can be used for most standard installations.
About Mapei Ultraflex 1
Mapei Ultraflex 1 thin-set mortar is a single-component, polymer-modified thin set mortar. It is designed for use with most types of tile installation, both interior and exterior. There is a high concentration of a unique dry polymer in this mortar, which results in good adhesion to both substrates and tiles.
Ultraflex 1 is a versatile adhesive with a wide range of applications. With its excellent bond strength, it is especially suitable for installing large-format tiles, porcelain tiles, and natural stone tiles.
In most residential floor and wall installations, Ultraflex 1 can be used both inside and outside. If Ultraflex 1 is mixed with water, it meets or exceeds ANSI A118.4 and ANSI A118.11.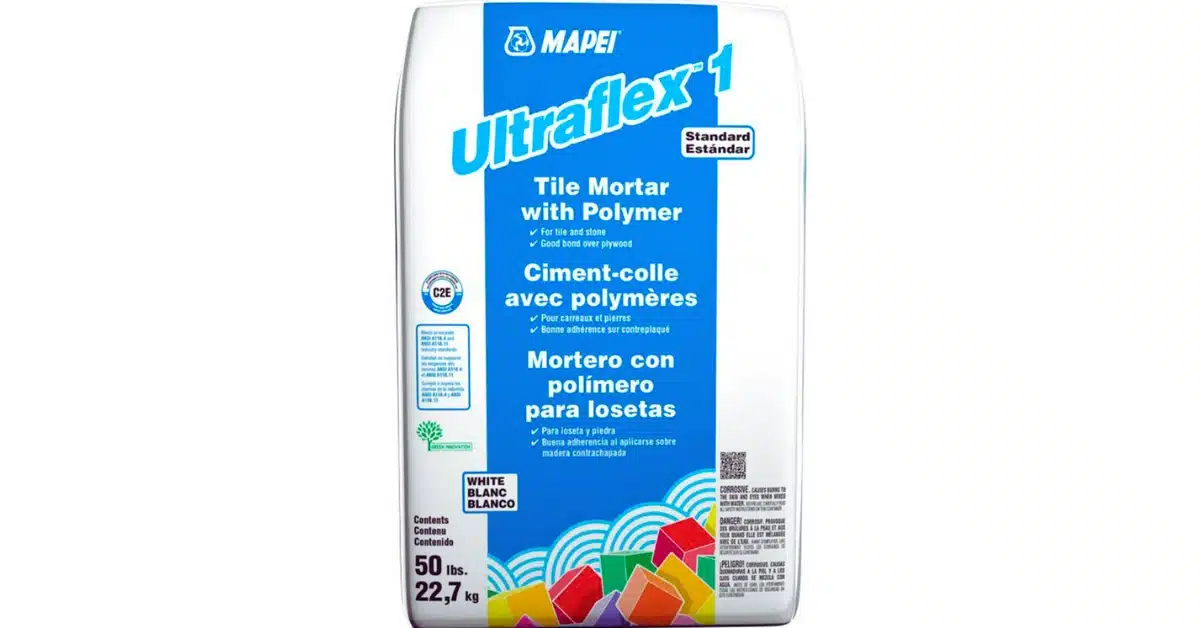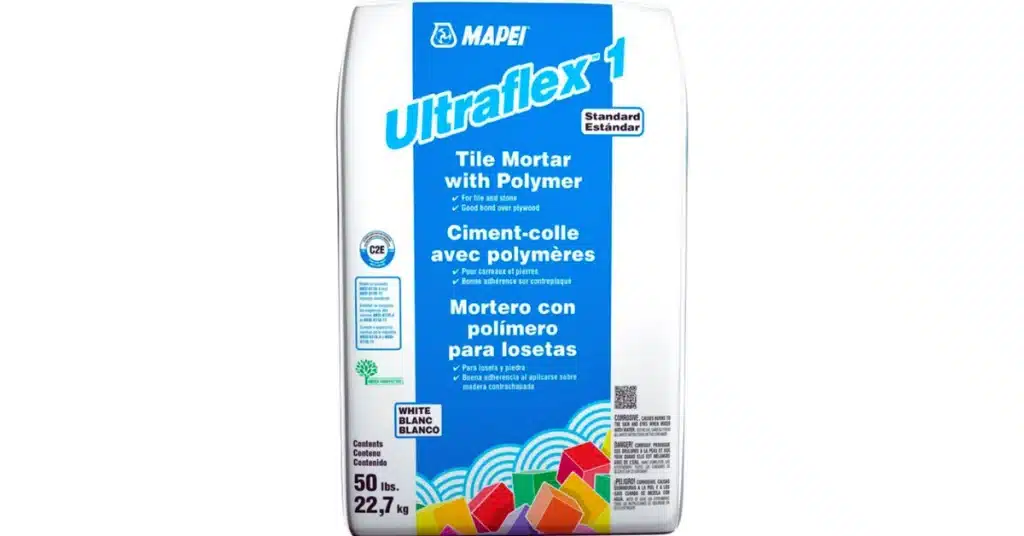 Read More: Flexbond Vs. Versabond
Similarities and Dissimilarities Between VersaBond and Mapei
| | |
| --- | --- |
| VersaBond Thinset Mortar | Mapei Ultraflex 1 |
| Work Time: More time consuming | Work Time: Takes less time |
| Coverage: 50 lbs./85 sq. feet | Coverage: 28 lbs./ 85 sq. feet |
| Sand Grind: Larger Sand Grinds | Sand Grind: Regular Sand Grinds |
| Bonding Strength: Exceptionally strong bonding | Bonding Strength: Less Bonding strength |
| Moisture Factor: Can't do it well | Moisture Factor: Excellent at it |
| Modifier Amount: Modified; has acrylic latex modifiers | Modifier Amount: Unmodified |
Which One Should You Use? Versabond Or Mapei?
I don't think there's a better adhesive or a bad adhesive. Performance-wise, both Thinsets are good. However, you have to pick the one that's right for you. It's important to know where you'll use the thin-set so you can pick one accordingly.
In case you're doing the project yourself, Versabond is the way to go because you can fix the nonaligned tiles with it. The shower wall can also be done with Versabond Thinset. Nevertheless, Mapei Ultra Flex 1 is a good choice if you need a strong adhesive.
In areas exposed to standing water or heavy moisture, Ultraflex 1 is a better choice than VersaBond due to its higher water resistance.
When it comes to price, Versabond is significantly less expensive. In general, Mapei is more expensive, but it requires less thin-set in the end.
What Thickness of Tile Is Best?
Depending on your project and application, you'll need to choose the right tile thickness. Generally, 1/2-inch to 3/4-inch-thick tiles are common for residential and commercial applications, while thinner tiles may be better for walls.

Is Ultra Flex 1 Waterproof?
Despite not being waterproof, Mapei Ultraflex 1 is highly water-resistant and suitable for moisture-prone areas.  Please note that Ultraflex 1 shouldn't be used in places constantly submerged in water or exposed to a lot of standing water.
Last Opinion
Mapei and Versabond are two different thin-set mortar brands. For standard-sized tiles, VersaBond might be a good choice. If you have large-format tiles and want high bond strength, Mapei Ultraflex 1 might be a better option.
Here, I tried to compare Versabond Vs. Mapei to help you find the best thinset mortar for your next project. Ultimately, it depends on your installation needs whether VersaBond or Mapei Ultraflex 1 is best. But you should also consider their differences when choosing between them.