Choosing the right mortar is essential for a successful and long-lasting tiling project. In both Versabond and Flexbond, the thinset mortar flexes to accommodate the expansion and contraction of surfaces.
Flexbond is generally more flexible. Alternatively, Versabond is cheaper and more suitable for environmentally stable areas.
Flexbond and Versabond are two recommended products to use as thinset mortar. So, in the battle between Flexbond vs. Versabond, which one should you use?
Read More: Large Format Tile Mortar Vs. Regular
Read More: Versabond Vs. Mapei
Flexbond Vs. Versabond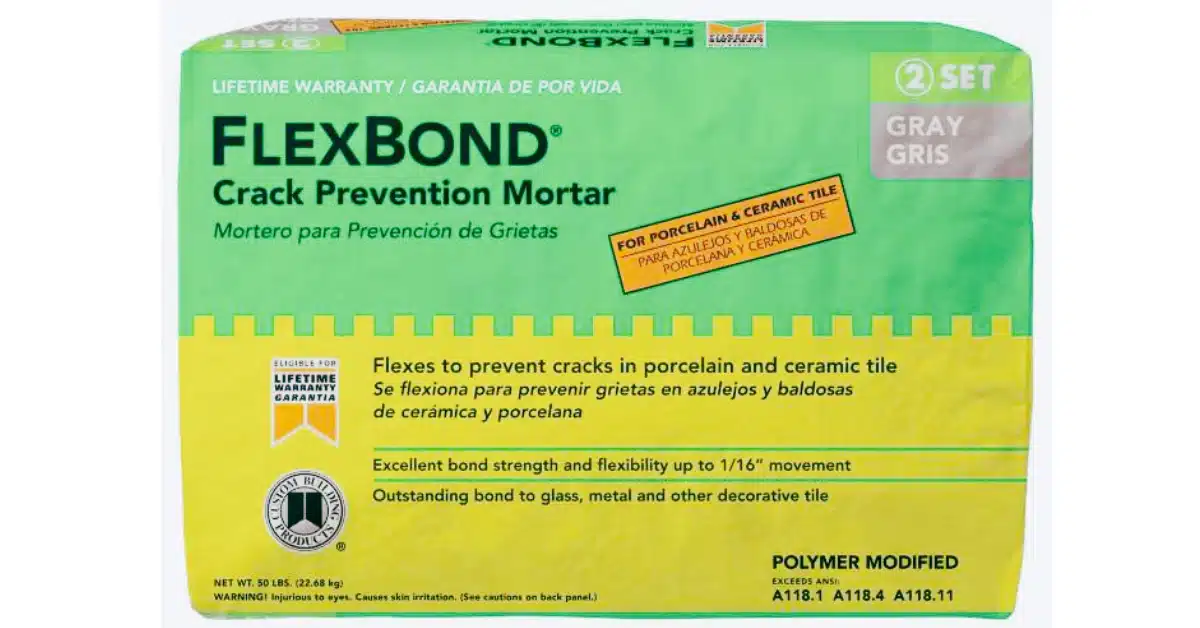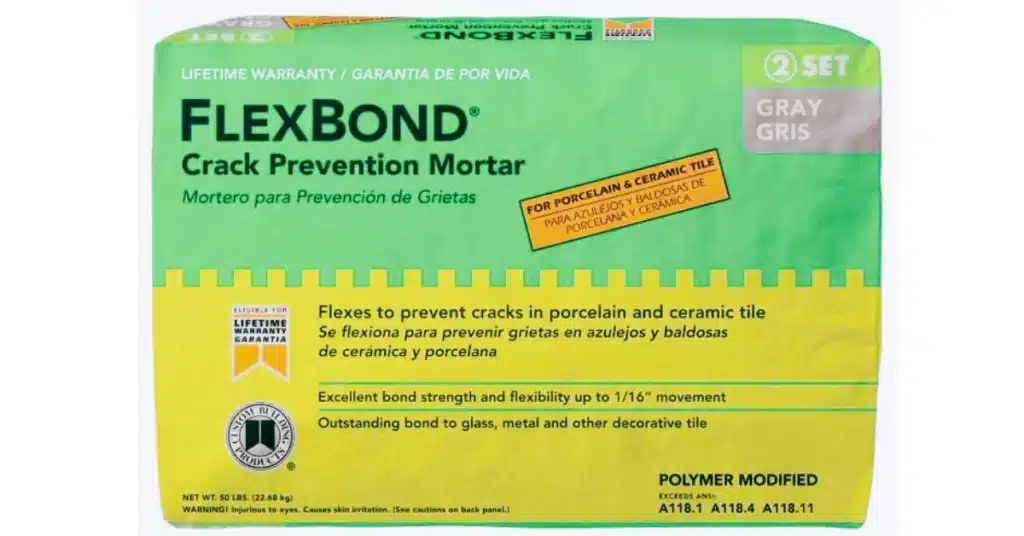 About FlexBond Premium Crack Prevention Thinset Mortar
FlexBond is a well-known polymer-modified mortar with high flexibility. It is a premium quality mortar to bond glass and other decorative tiles. Its superior flexibility prevents tiles from cracking. Flexible bond is easy to mix and spread due to its excellent workability and adhesion.
For tiling vinyl, laminates, plywood, and for hard-to-bond, non-porous tiles, such as porcelain and glass, this high-quality polymer-modified mortar has outstanding flexibility and bond strength. However, grouting may have to wait longer due to its long drying time.
Read More: VersaBond LFT Vs. VersaBond
About VersaBond Professional Thinset Mortar
VersaBond is a cost-efficient, all-purpose mortar. It is a thinset mortar with polymer modification that provides good bond strength for floor and tile projects. It adheres to most surfaces without the use of additives. It also exceeds the requirements of ANSI A118.4 and A118.11.
The VersaBond curing agent dries quickly, even in cold temperatures. Due to its professional formula, it is ideal for applications involving heavy loads or high-traffic areas, such as commercial interiors. Compared to Flexbond, Versabond dries faster, which makes grouting easier.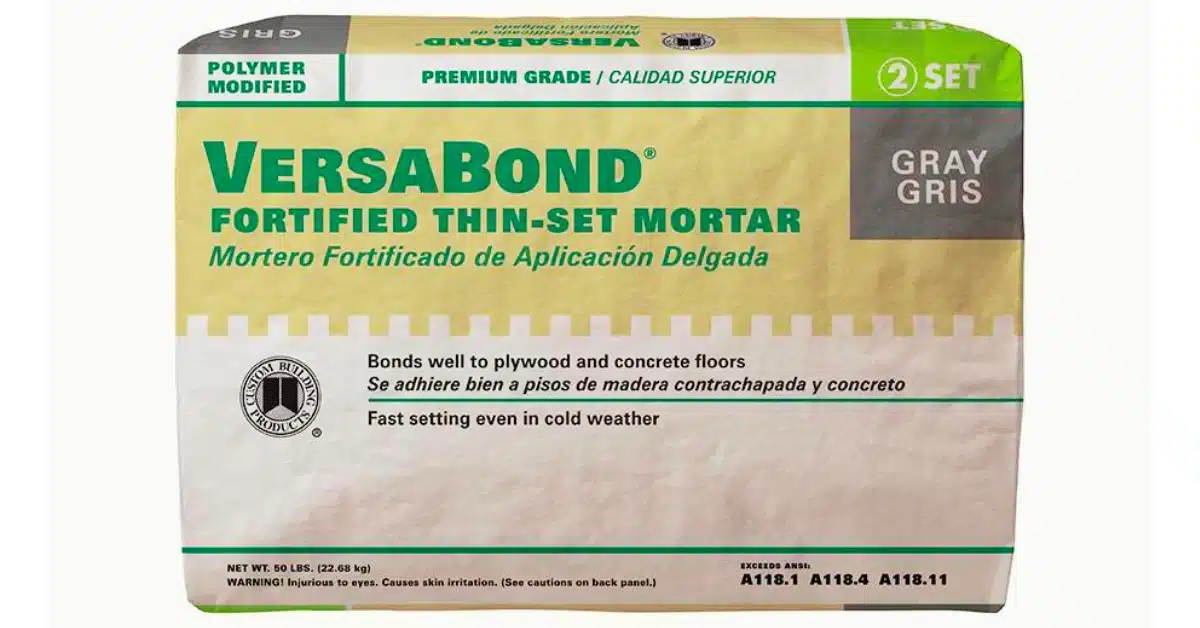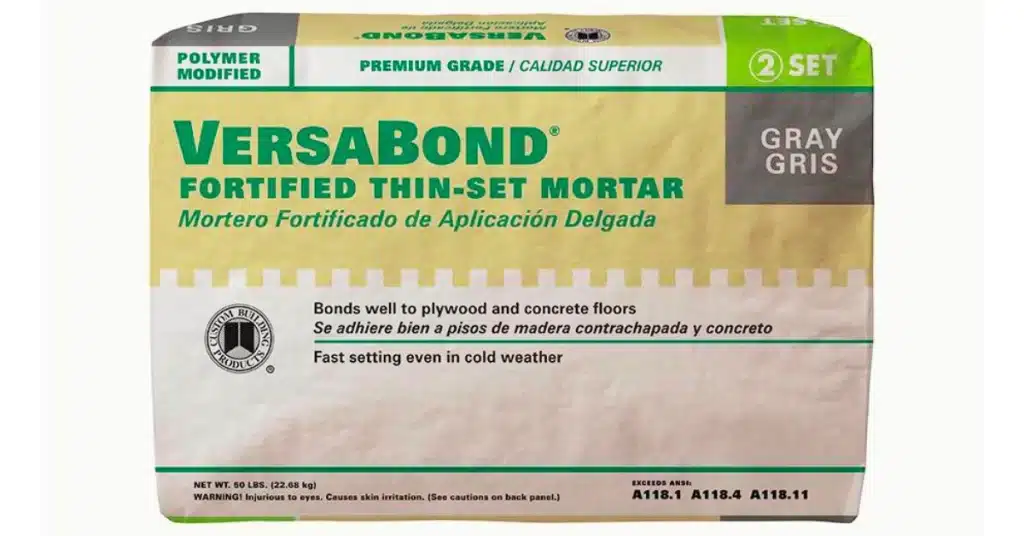 Which Thinset Mortar Should You Use? Flexbond Or Versabond?
A good combination of performance and versatility is offered by both Flexbond and Versabond, two high-quality mortars. Honestly, there are no right or wrong ways to look at either. Now let's evaluate the differences between Versabond and Flexbond.
Flexbond is slightly more expensive due to its flexibility. Versabond is the cheaper option of the two. It is, therefore, the most budget-friendly choice. If you need a modified thinset mortar on a shoestring budget, Versabond is the way to go.
Flexbond dries slower than Versabond, so you need to wait longer before grouting. Despite this, Flexbond can achieve a stronger bond with the substrate and tiles because of this extra time. Flexbond is a good choice if you don't need a fast installation and want to ensure security and longevity.
Flexbond is considered the better bonding material, despite Versabond's great bonding strengths. Versabond is typically good enough for most bonds. Particularly if you are bonding the tile to plywood or concrete. In the case of something more unusual, such as glass, Flexbond may be a better choice.
Versabond is a better choice if you intend to add additional acrylic to the mortar by yourself. It is common for DIYers to manually adjust the amount of acrylic latex additive. The problem with Flexbond is that it is easy to overdo it. Versabond gives you more freedom when it comes to mixing.
Read More: Best Thinset for Shower Walls
Read More: Tile Adhesive vs. Thinset Mortar
Is Flexbond Good for Shower Walls?
Yes, Flexbond is a good choice for shower walls due to its flexibility, adhesion, and water resistance.

Is Versabond Good for Showers?
Yes, Versabond is an excellent choice for shower installations due to its high-strength and water-resistant properties.

How Long Does Flexbond Take to Dry?
Flexbond usually takes 30-45 minutes to dry. But, actually, drying time varies with application.

How long is Versabond good for?
There is no specific lifespan for Versabond. But if properly installed and maintained, then it can last for more than 60 years.
Last Opinion
It's up to you to figure out which mortar will be the best fit for your tiling project and your specific needs. When it comes to tiling projects, Flexbond is a great choice because it's reliable and gets great results. The mainstay of the home improvement industry, Versabond makes reliable thinset mortar at an affordable price.
Flexbond is the perfect choice for those who prioritize durability and flexibility. You should choose Versabond if you want more strength and a faster drying time.
Here, I compared Flexbond vs. Versabond to help you determine which thinset mortar is best for your tiling project. Hopefully, now you get an idea about that. If so, then leave a comment below.