Tacky glue is thicker than any other ordinary glue. It is flexible, non-drippy, and permanent glue. It is better for vertical applications as it doesn't slip easily.
As it is tacky and thick, you should use it differently. Although the method is relatively easy, you should know some hacks about how to open tacky glue. 
Tacky glue works just fine on multiple materials. All you need is to cut the tip properly and use it correctly. Also, wearing safety gear is a must.
To know about the method in detail, check out the simple steps discussed below. 
Read More: Tacky Glue Vs. Gorilla Glue
What Is Tacky Glue?
Tacky glue is a thick PVA glue that is used for any surface where not any thin glue works because it slips.
It is an all-purpose glue with a strong adhesion facility. It is the perfect solution for any arts and crafts project.
Besides, it dries clear and faster. It is a flexible glue that can be used on multiple surfaces. It includes a fast-grabbing formula that creates a strong bond on the surface.
Moreover, tacky glue suits materials like metal, wood, glass, ceramics, plastics, and paper. It is water soluble, non-toxic, and permanent.
Some good tacky glue brands are Aleene's, Scotch Quick Drying, Elmer's, Acme, and more. 
Read More: Tacky Glue Vs. Wood Glue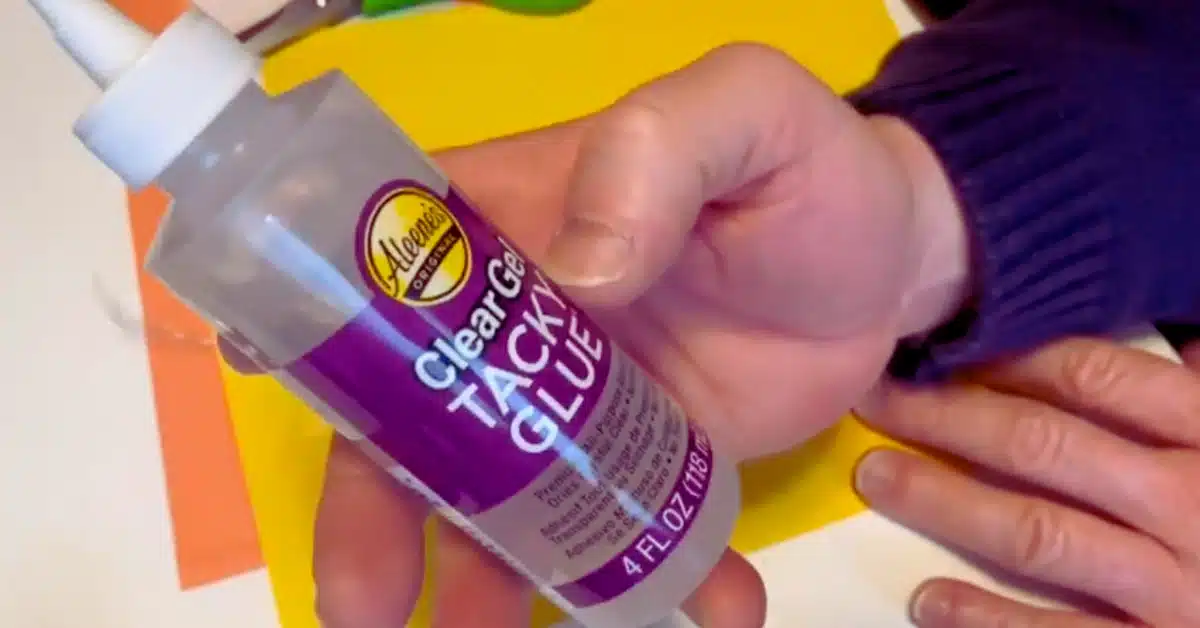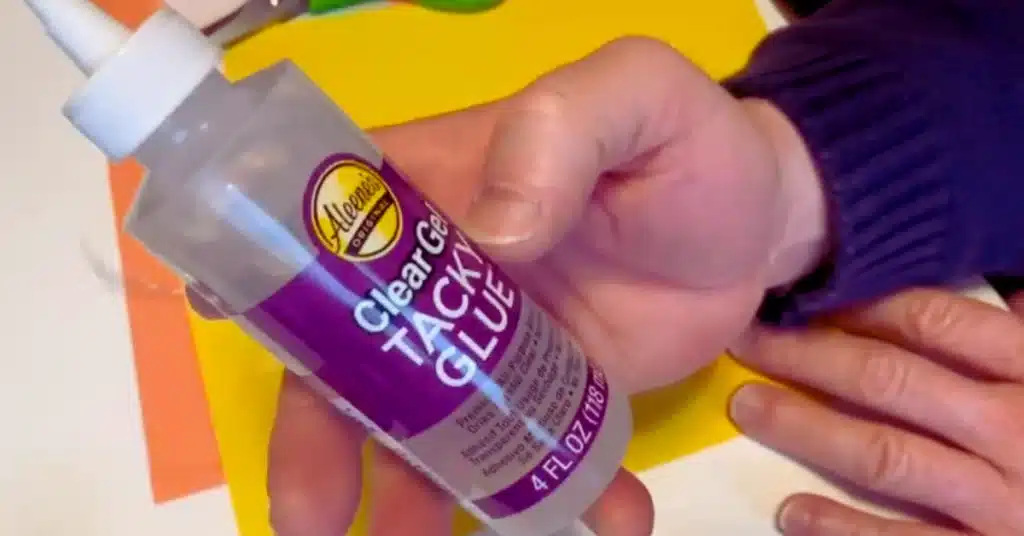 How to Open Tacky Glue?
Tacky Glue is an easy-to-use product. It is flexible and non-drippy. So you can easily apply the glue on any surface.
However, if you are confused about the method, here is one that covers you. See the technique in some easy steps to clear out your confusion.
Things you need in this process are:
Tacky glue
Scissors
Weight for clamping
Damp cloth
Safety gloves
Step 1: Prepare The Equipment
First, arrange all the equipment that is needed for the application process. Get the glue, safety gloves to protect your hands, scissors, and something heavy for clamping.
Get all the equipment ready so you can finish the process quickly.
Step 2: Cut The Nozzle
To get the finest application, you need to cut the nozzle precisely. As you need to apply a thick layer of glue, it will be best to cut the nozzle and then use it on the surface.
Step 3: Application
Now, it's time for the application. Ensure you hold the bottle properly, then apply a thick layer of the glue on the needed areas.
Step 4: Clamping
After applying a thick layer of glue, you must clamp it to get a better result. Clamp the material by holding it where you want it to stick.
Make sure you take enough heavy objects to put pressure on the surface. You can use any weights to do so.
Step 5: Wipe Out The Excess
If you see any mess or excess product on the surface, wipe it out with a damp cloth before drying the glue. Make sure you do it faster because dried glue cannot take off.
Step 6: Let It Dry
Once the application is done, you need to let the glue sit and dry for around 30-40 minutes, depending on the thickness of the bond and the weather.
Step 7: Store The Bottle
When you're all done with the application, make sure you close the cap of the tacky glue and store it in a cool and dry place for future use.
Pro Tip:
You can get the same tacky glue product with a different cap, which is a bit expensive. You can use the cap for the new one when the bottle is finished. Also, store it upside down to make it ready to use.
Precautions
Tacky glue can damage your skin, creating irritation and burning. Ensure you use safety gloves so the bond doesn't affect your skin.
You can use goggles to protect your eyes from any accidental damage during the glue application process.
Check out the label to know everything about the product and the instructions.
Keep the tacky glue bottle away from children and pets. The reason is it is harmful to them if accidentally consumed in any way.
Do the tacky glue application method in a well-ventilated area. This way, there will be no chance of consuming toxic fumes, and your health will be secured. 
Read More: Tacky Glue Vs. Mod Podge
Last Opinion
As you know how to open tacky glue, you should follow the method and the instructions. The technique is easy. You only need to focus on the precise application, keeping safety in mind. 
Also, you must check the label and follow their information. Ensure you don't cut the nozzle too big because that can make a messy application.
Follow our tips and tricks, and you will surely get better benefits and a strong bond.