If you are confused about choosing the best Alien Tape among all of the Bell+Howell Alien tape products, you should check Alien Tape Review.
Alien tapes are good for providing an air-tight seal. As it comes in tapes, you can use it anywhere easily without waiting for drying or curing. It sticks on the surface easily and makes a water-tight and waterproof seal on the doors and windows.
To get the best Alien tape, you should know about them properly. Check out the top 3 best Alien tapes and an entire review to select the perfect one for your needs.
Read More: Alien Tape Vs. Gorilla Tape
Top 3 Best Alien Tape Reviews
When you are looking for the best Alien Tape product among all the products, you should go for the entire Alien Tape Review. Among all the products, there are the top 3 best Alien tapes that you should know.
Let's get deeper into the description, review, advantages, and disadvantages to know everything and decide better.
1. Bell+Howell Alien Shield Transparent Sealing Tape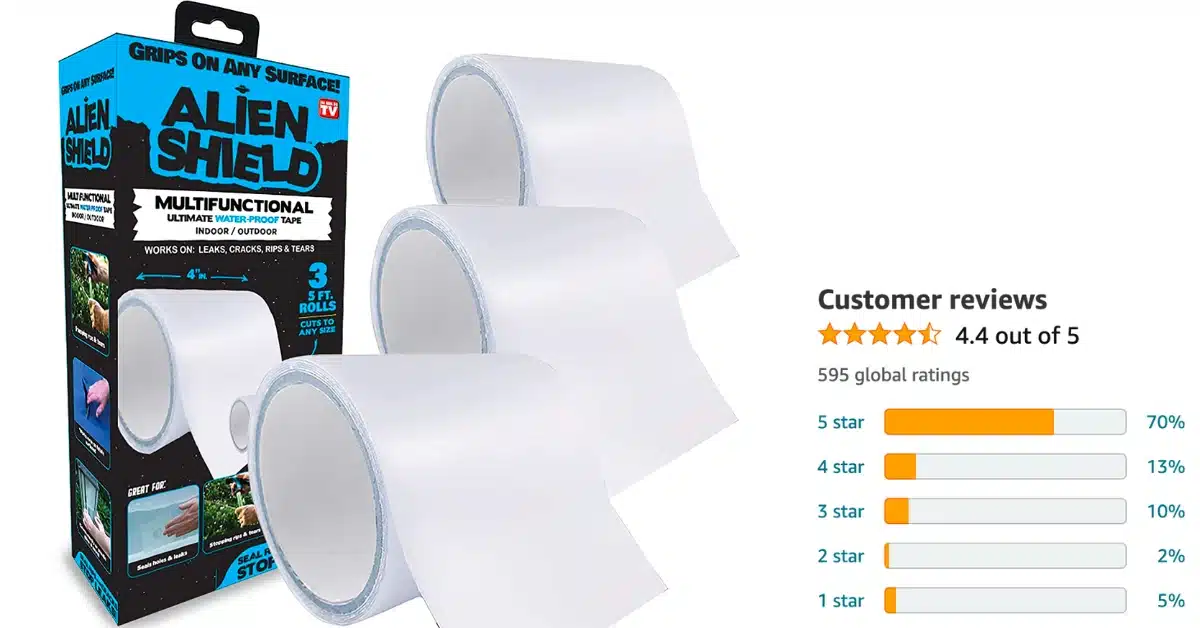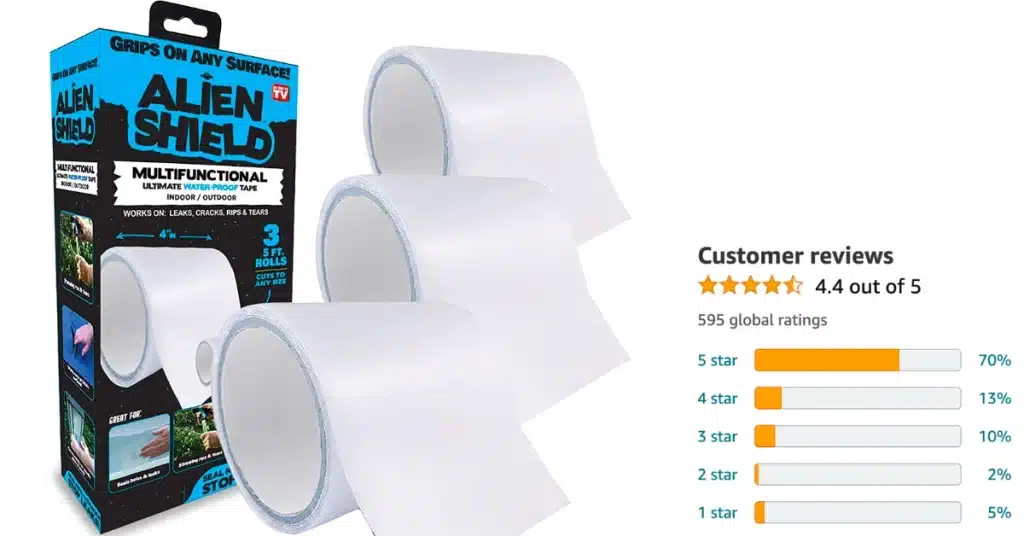 Bell+Howell Alien Shield Transparent Sealing Tape Specs And Features 
Brand is Bell+Howell
Color is transparent
Water resistance is there
Compatible material is wood
Bond type is permanent
Compatible uses are leak fixing on gutters, garden hoses, roofs, windows, punctured air mattresses, and more.
Bell+Howell Alien Shield Transparent Sealing Tape Review
Alien Shield Tape includes a lot of features that make it the best. It claims to be waterproof and ultra durable tape that provides a water-tight seal for leaks.
You only need to peel off the back and stick it into the place you need. Also, it claims to stick to any surface, even wet ones. It is how you can use it to stop leaks.
The Alien Shield waterproof repair tape works best even under pressure and underwater. The waterproof adhesive can instantly repair cracks, tears, and leaks. Whether it is snowing or raining, the Alien Shield tape stands for all situations.
Moreover, Alien Shield Tape reviews show you can use the tape in kitchens, bathrooms, and swimming pools, as well as camping tents and boats. To get a permanent bond, the Alien Shield Tape is the one.
As it is waterproof, it becomes a suitable option for both indoor and outdoor uses. The tape is good to use on uneven and rough surfaces. If you want a permanent bond with a transparent finish, get this tape for a smart solution.
The method is also easy. All you need is to open the packaging, cut the amount of tape you need, peel it off, and apply it to the places you need. Besides, as it comes in clear color, it becomes a suitable product for lighting fixtures.
One of the main things is it sets quickly. It is a good DIY product, and it is affordable too. So, it saves money and time too. You can repair any damage on your own.
You don't need anyone to help you or any tool to use this product. Overall, Alien Shield Tape is effective, quick, and ideal. Get through the Alien Shield Tape Review to know more about it.
Bell+Howell Alien Shield Transparent Sealing Tape Pros And Cons
Pros
Waterproof
Durable
Bonds permanently
Saves time
Budget-friendly
Cons
Doesn't adhere well if there is any moisture 
Read More: How to Remove Alien Tape
2. Alientape Strips Double Sided Tape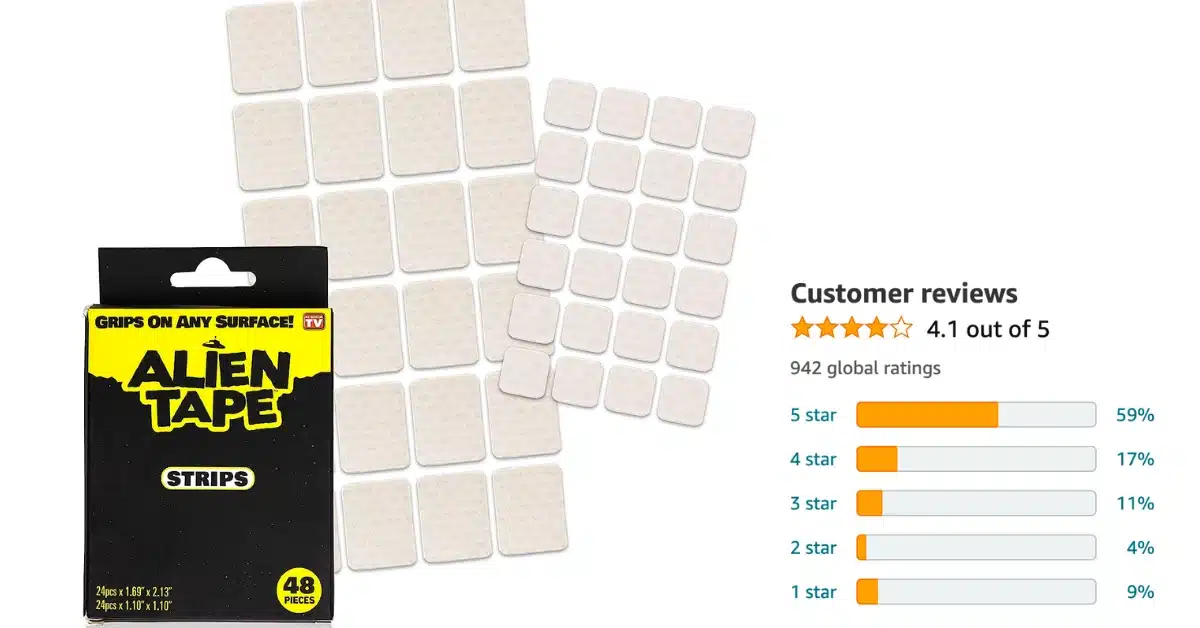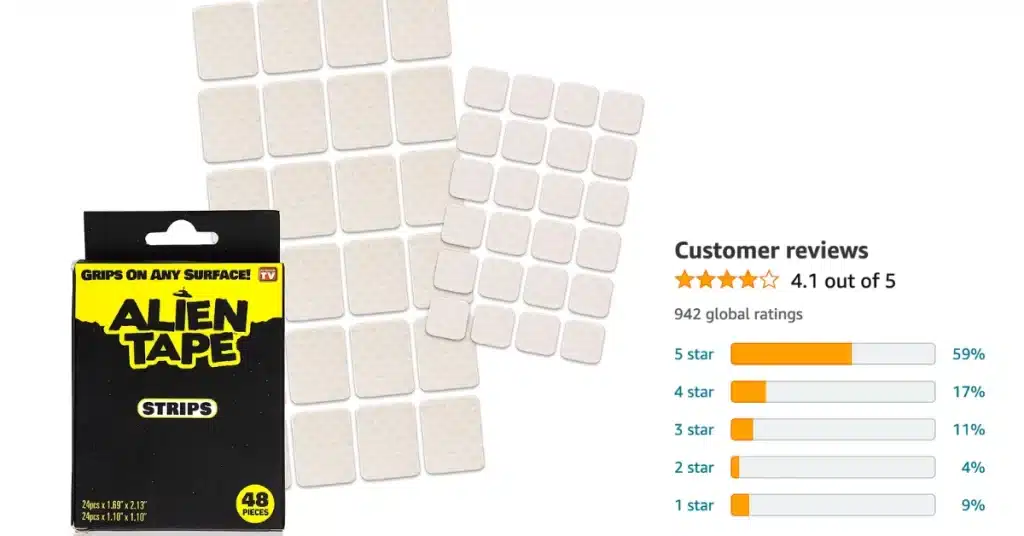 Alientape Strips Double Sided Tape Specs And Features
Brand name is Bell+Howell
Compatible materials are acrylic and aluminum
Color is transparent
Special features are removable, double-sided, reusable, transparent, and strong
Comes in 48 pieces strips
Alientape Strips Double Sided Tape Review
The Alien Tape strips are a multipurpose and removable adhesive that includes super strong adhesion on the surfaces.
To get easily sticky strips to use on wood, metal, aluminum, plastic, and glass, using the strips is a good option. However, you cannot use it on dry-painted surfaces.
You will get 48 strips in the package. The product has a high adhesion capacity that can be used on many types of surfaces easily.
Besides, the strips are washable. So, it is good for indoor as well as outdoor projects. Moreover, it is waterproof and weatherproof. So, you can use it for different decorative stuff like furniture, photo frames, under the carpets, rugs, etc.
Using the Alien tape Alien double-sided tape is easy because it comes in strips. It is a ready-made product that saves a lot of time. All you should do is peel off the cover, apply on the needed areas, and it's done.
It doesn't need any required time to set or cure. Also, you can use it multiple times. It gives effective results for many times usage. As a result, it saves a lot of money.
Just rinse it off and dry then it's ready to apply on the surface again. So, to get a hassle-free application, get the Alien Tape strips.
From lighting and posters to kitchen tools and carpets, Alien tape uses are many. If you want an easy solution for your project, Alien Tape strips are the best option.
Alientape Strips Double-Sided Tape Pros And Cons
Pros
Multipurpose and reusable strips
Weather resistant
Easy to use
Super strong adhesion
Cons
3. Alien Draft Seal Insulation Tape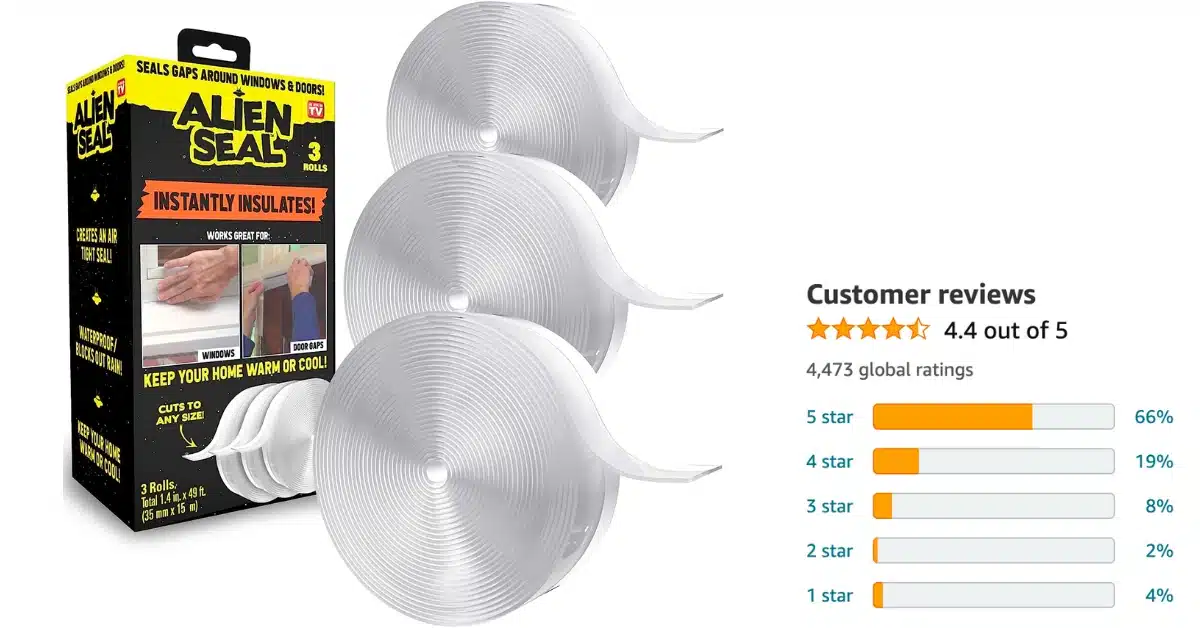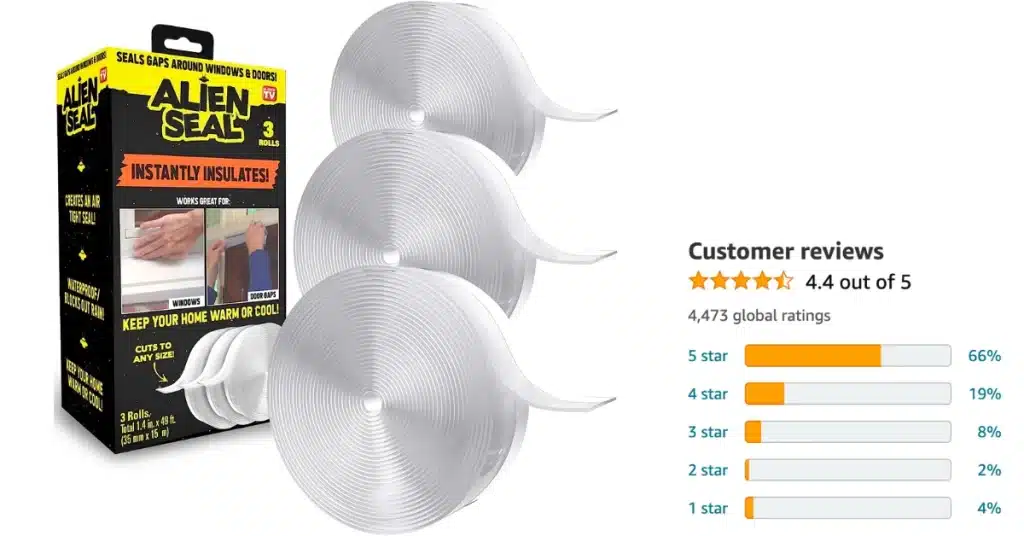 Alien Draft Seal Insulation Tape Specs And Features
Brand is Bell+Howell
Compatible material is silicon
Length is 49 feet
Width 1.4 inches
Color is transparent
Recommend uses are on windows and doors
Alien Draft Seal Insulation Tape Review
The Alien Draft Seal Insulation Tape is an ideal product for blocking drafts, smoke, and air. To seal any area like a door or window, this product can do it well. It is a flexible door and window seal.
It works well to seal gaps around the doors, windows, and door bottom to block cold air from entering the area and keep the environment warm.
The application process is easy. It has weather and moisture-proof quality. You should measure and cut the tape according to the needed amount, then apply it on the areas by pressing properly to create a tight seal.
Besides, it is a transparent tape. So, you can use it anywhere without considering whether it will be visible. It seems like nothing is there. Whether it is raining, splashes, or moisture, it maintains stickiness properly.
Also, it doesn't remove paint from the wall when peeling it off. To get a superior and strong adhesion on wood, metal, glass, plastic, ceramic, and fiberglass, this Alien Draft Seal is a great deal for sure.
Get through the Alien tape reviews, and you will know you can have an extra long tape with 1.4 inches of width to provide a good deal. You can use the product many times to seal the gaps.
The Alien Draft Tape has a wide range of applications, including door threshold sealing, window sealing, garage door sealing, leak-proofing the doors of showers, glass shower doors, and many more.
This weather-stripping door seal strip is the ideal option for providing premium-grade silicone that resists hardening or creasing and maintains flexibility. To get the best service, get it for once and try it. This one is overall a good choice for an easy seal.
Alien Draft Seal Insulation Tape Pros And Cons
Pros
Non-toxic
Easy to use
Weather and moisture-proof
Doesn't remove paint when peeling off
Cons
Doesn't cover the gap when the two surfaces are uneven
Is alien tape waterproof? 
Alien tape is waterproof and weatherproof. So, it becomes the ideal one for using both indoor and outdoor projects. 

Do alien tape really work?
Alien tape works well to seal any area like doors, windows, bathroom doors, kitchen areas, the bottom of doors, and more to prevent any cold air or smoke from coming in. 

What is alien tape best used for? 
Alien tape is weather and waterproof. So, it can be used indoors as well as outdoors. It is best used for kitchen tools, photo frame mounting, prevents furniture, carpets, and rugs from sliding, etc. 

Is alien tape a permanent solution?
Alien tape provides a permanent solution. It is strong, ultra-durable, and waterproof. Also, it creates a water-tight, strong, and permanent seal on the areas. 
Alien Tape Problems
Let's delve deeper into some of the common problems and concerns related to "Alien Tape":
Adhesion Problems: One of the primary purposes of Alien Tape is to securely hold items without the need for traditional mounting methods like nails or screws. However, users have reported instances where the tape doesn't adhere as well as expected. This can result in items falling off the wall or surface, potentially causing damage to the item or the surface itself.
Residue: Some users have complained about the sticky residue that Alien Tape leaves behind when removed. This residue can be challenging to clean off surfaces, especially delicate ones like painted walls or glass. It might require the use of solvents or cleaning agents to fully remove the residue.
Weight Limitations: While Alien Tape claims to support a certain weight limit, it's important to note that the actual weight-bearing capacity can be influenced by various factors, such as the type of surface, the texture of the item being hung, and the conditions in the environment. Users have reported instances where the tape failed to hold items that were well within the specified weight limits.
Inconsistent Results: Different users have reported varying experiences with Alien Tape. Some users have found it to be effective for their needs, while others have faced challenges with its adhesion and durability. This inconsistency in results can make it difficult for potential buyers to predict how well the product will work for their specific situation.
Temperature Sensitivity: Adhesive properties of tapes can be affected by temperature changes. Some users have observed that Alien Tape's effectiveness can vary depending on whether it's used in hot or cold conditions. Extreme temperatures might impact its adhesive strength and longevity.
Longevity: Alien Tape is marketed as reusable, which means you can remove and reapply it multiple times. However, some users have noticed that the tape's adhesive properties can diminish with each reuse, potentially affecting its ability to hold items securely.
Availability: Depending on your location and where you shop, Alien Tape might not be readily available. This could lead to inconvenience if you need to replace or purchase more tape in the future.
To address these concerns, if you're considering using Alien Tape or a similar product, here are a few steps you can take:
Research: Read reviews from multiple sources to gather a wide range of user experiences and opinions.
Testing: Before using Alien Tape for valuable or important items, test it on a less visible or valuable surface to assess its adhesion and removal properties.
Surface Preparation: Make sure the surface you're applying the tape to is clean and free from dust, dirt, and oils, as this can affect adhesion.
Weight Considerations: Be cautious and consider the actual weight and size of the item you plan to hang. Consider using additional support or a different mounting method if it's close to the weight limit.
Temperature Awareness: Keep in mind potential temperature variations in the environment and how they might affect the tape's performance.
Ultimately, while Alien Tape and similar products can offer convenience, it's important to manage your expectations and consider potential drawbacks before relying on them for heavy or valuable items.
Last Opinion
Alien Tape is overall a good-quality, ultra-durable, long-lasting, waterproof sealing one that provides a permanent bond on the areas you need. The method is also easy. All you need is to cut the needed amount of tape and apply it to the specific areas.
There is no hassle using it. You don't need to wait for it to dry or cure. It's super easy to use and effective. Make sure you read all about Alien Tape problems and the Alien Tape review entirely.
Choose the best one according to your need and preference. Hopefully, you seal the areas perfectly and get the best results overall.