When choosing the right cleaner or glue remover for your home, start with their features first. Both Goof Off and Goo Gone are top-notch products to use for any cleaning.
Goof Off is beneficial for the toughest stains, spots, and marks. It can be used on solid surfaces as well as fabric too.
On the other hand, Goo Gone is suitable as a household cleaner. To remove any ordinary waxy and gluey mess, Goo Gone is the one. It is ideal for cleaning paint, crayons, and glitters from walls and surfaces too.
To know better, check out the detailed comparison of Goof Off vs. Goo Gone below.
Read More: 3m Adhesive Remover vs. Goo Gone
Goof Off Vs. Goo Gone
Goof Off Overview
Goof Off is a household heavy-duty remover that works on the most challenging spots, stains, and any marks quickly. It is a safe option to use on plastic, fabric, and clothing too.
It is good stuff to remove the toughest mess that no ordinary product can do. To remove ink stains, lipstick stains, scuff marks, and even shoe polish, Goof Off is the one you need.
To get a safe cleaning outcome, Goof Off is a great option. It is easy to use. All you need is to apply the product directly to the stain and let it penetrate for a minute.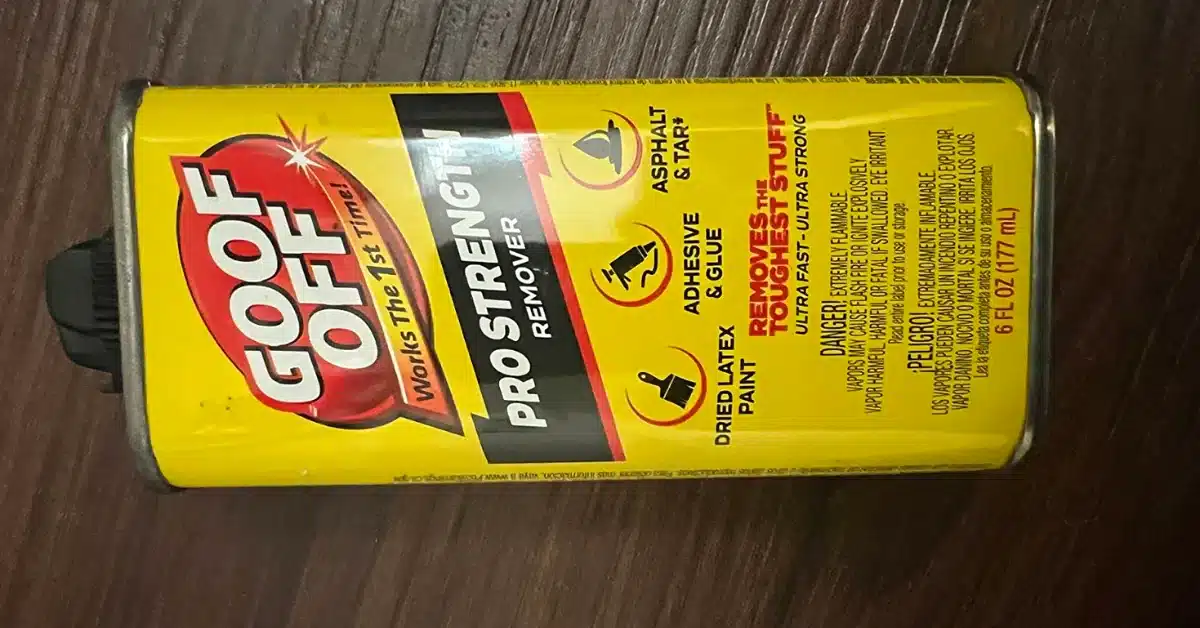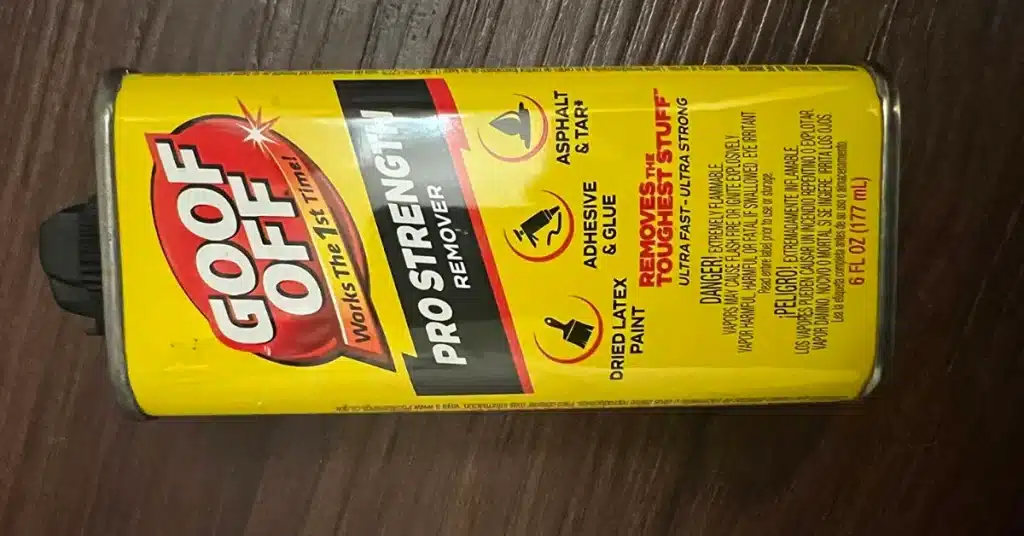 After that, wipe off the area or wash it off if it's fabric. Make sure you check out the instructions, then clean the area accordingly.
Goof Off is a perfect product for home, garage, and any workshop cleaning. It is a quick and easy-to-use product.
So, you don't need to spend much time or effort to get rid of stains and make them clean. For any sticky, gummy, or greasy mess, Goof Off is the ideal solution.
Goo Gone Overview
Goo Gone is a safe surface cleaner with a unique formula to remove all kinds of gummy, gluey, and waxy mess. It is preferable as it doesn't damage the surface.
The cleaner is formulated with a citrus cleaning agent with a pleasant citrus fragrance. To remove any gooey mess, Goo Gone is the one for you.
Remove glue, glitter, wax, scuff eraser, tar cleaner, crayon, and more quickly with Goo Gone. It is considered the #1 product for cleaning a lot of things.
Besides, as it removes crayons, stickers, and gum residue, it becomes an excellent product for teachers and parents.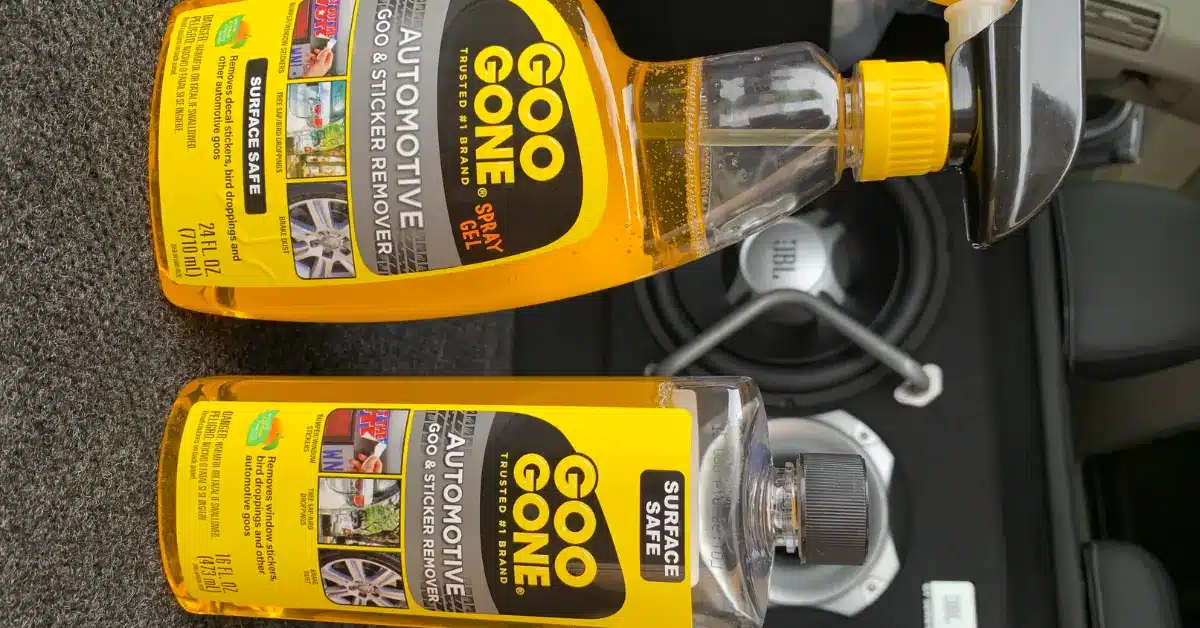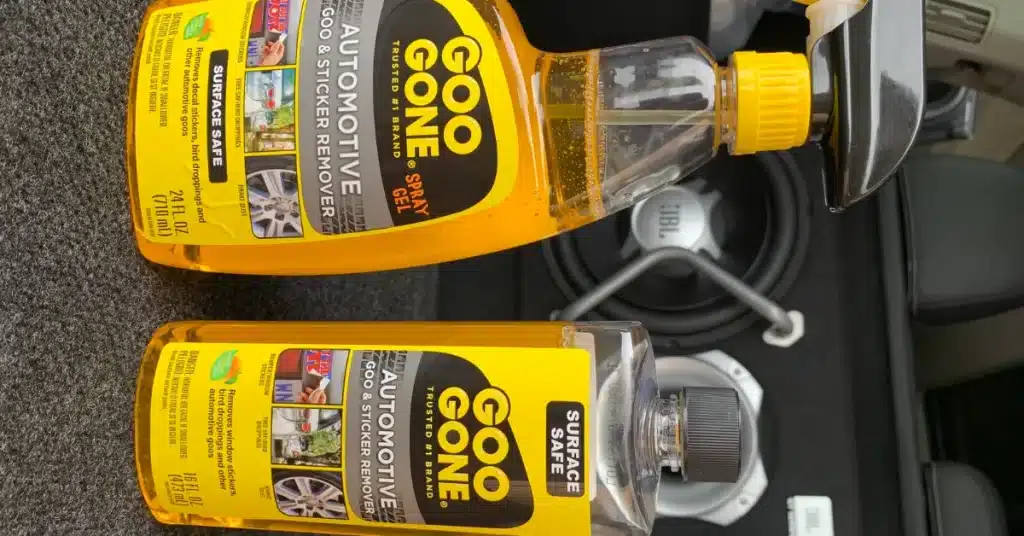 Besides, it is a suitable option for removing messes created by children and students for their creative works and removing labels and price stickers from bottles, wine glasses, video games, drinking glasses, clothing, and more.
From wood, metal, and ceramic to glass, vinyl, and plastic, Goo Gone works pretty fine on everything.
Read More: Goo Gone Vs. Goo Gone Automotive
Types of Goof Off
Goof Off includes various kinds of products that are effective enough. From stain removal to rust removal, Goof Off can do it all. Let's check the types of Goof Off cleaners for a better idea.
Goof Off Rust Stain Remover: It removes stains and iron rust from bathrooms, kitchens and various household areas. It is also suitable for lawn furniture, driveways, fences, and walls.
Professional Strength Goof Off: This product is the most potent adhesive remover. It removes stains and sticky messes from several materials, from glass to wood.
Goof Off Degreasers: The degreaser can remove grease from surfaces like carpets, upholstery, fabrics and even hard surfaces.
Heavy Duty Goof Off: It is a powerful Goof Off glue. You can remove adhesive, tree sap, asphalt, and nail polish.
Specialty Goof Off: A special Goof Off remover can do different jobs. This product can do several jobs, like removing oil-based paint, spray-based paint, latex, and automotive purposes.
Types of Goo Gone
Goo Gone produces several good products that can remove any tough stain and stickiness. It comes in multiple types like spray gel removal, liquid, applicator pen type removal, clean-up wipes, aerosol, and more.
See the types of Goo Gone below to know more about it.
Original Goo Gone: The Original Goo Gone is the perfect solution for removing any sticky and gooey mess from the surface. It helps to make the surface like it was before.
It is a surface-safe product. So it doesn't damage the surface at all. Goo Gone Original is also suitable for cleaning dinnerware, tables, and clothing.
Paint Goo Gone: Paint Goo Gone makes the process easy to clean paint spills, overspray, and drips. It is perfect for professional painters and DIYers.
Also, it works well on both wet and dry paint, acrylic, latex, enamel, and craft paint.
Professional Goo Gone: The Professional Goo Gone is an excellent solution for removing the most rigid adhesives and stains of ink and soot.
It is a surface-safe glue. So it cleans the area without damaging it. Remove grease, oil, stickers, and more with this product. It is both cleaner and degreaser.
Home Goo Gone: The Goo Gone Home glue cleans grease, oil, and other sticky mess from the surface.
It is both indoor and outdoor household adhesive cleaning. Cleaning the toughest things like grills and ovens is easier with Goo Gone.
Automotive Goo Gone: Automotive Goo Gone is a surface-safe and non-drip adhesive remover. It keeps the cars and other vehicles away from any sticky mess.
Also, it includes citrus oil power that removes the most challenging mess, like gum, bumper stickers, spray paint, tree sap, and more.
Read More: Goof Off Vs. Acetone
Goof Off Caution
Goof Off is a renowned brand that produces good quality products. It is used for various reasons.
However, the ingredients of Good Off, like petroleum gasses, ethylbenzene, and butoxydiglycol, are the most toxic.
So, it is safe for the surface but not for you. When using Goof Off, you must be careful and use necessary gear like protective eyeglasses and chemical-resistant gloves.
It may cause skin irritation, hearing impairment, urinary and kidney issues, and cancer. Use Goof Off by maintaining safety, and you will be fine and get the desired outcome.
Goo Gone Caution
Goo Gone includes a lot of facilities for using it on several surfaces. It is suitable for cleaning any sticky, gooey, and greasy surfaces. But it has some hazard warnings.
So, when using Goo Gone, you must consider the concerns. The ingredient petroleum distillates can damage your body. If you don't use it with proper safety, it may cause DNA damage and cancer.
It can also make some external impact on the body. So, it will be best if you use it correctly and store it in the right place.
Which Is Better? Goof Off Or Goo Gone?
Goof Off and Goo Gone are both good-quality products. You need to know more about these products to use them correctly.
Goof Off is potent acetone. It suits heavy-duty mess like glue, tar, and dried paint residue.
On the other hand, Goo Gone is a citrus-based solution used for tape and stickers. It is better for dirt and stains.
But for tougher stains, you need Goof Off. It is more potent than Goo Gone. So, Goof Off is the best for sure.
Last Opinion
Now that you know everything about Goof Off vs. Goo Gone, you can choose the better one for your job. Goo Gone is for ordinary stains, and Goof Off is for the toughest ones.
So, according to the comparison, select the right one for your cleaning purposes and get the desired outcome.
To make the surface look new, you must use the proper adhesive remover and get the best result to make everything unique.
Is Goo Gone stronger than Goof Off?
Goo Gone and Goof Off are both effective adhesive removers, but their strengths can vary depending on the specific product variant or formulation.
It's important to consider the surface being treated and test the product on a small area beforehand.

What is Goof Off used for?
Goof Off is a brand of adhesive remover and cleaner that is commonly used to remove tough substances such as adhesives, grease, oil, tar, crayon marks, paint, and other sticky residues from various surfaces.
It is often employed for cleaning tasks in households, workshops, and industrial settings. Goof Off products come in different formulations and formats, including sprays, wipes, and gels, designed for specific applications and surfaces.