Choosing the right sealant is not difficult. Before getting any product, you must know what type of repair it is.
Gutter and silicone sealant are two completely different products. So, to know the difference, you need to get through the Gutter sealant vs. Silicone comparison first.
Well, to simply specify, the gutter sealant is for any below-grade and highly-moisturized areas. And the silicone sealant is for dry surfaces.
Know more about gutter and silicone sealant from this article below. 
Read More: Thread Sealant vs. Threadlocker
Gutter Sealant Vs. Silicone
About Gutter Sealant
Gutter sealant is a high-quality, waterproof, and tough sealant. It has a butyl rubber formula that makes it suitable for outdoor projects.
Moreover, it is a premium-quality sealant that provides a long-lasting, durable, and watertight seal.
It is best used on any high moisture surface like gutters, windows, chimney areas, bathrooms, showers, around the toilet, kitchen, basement, and in any below-grade areas.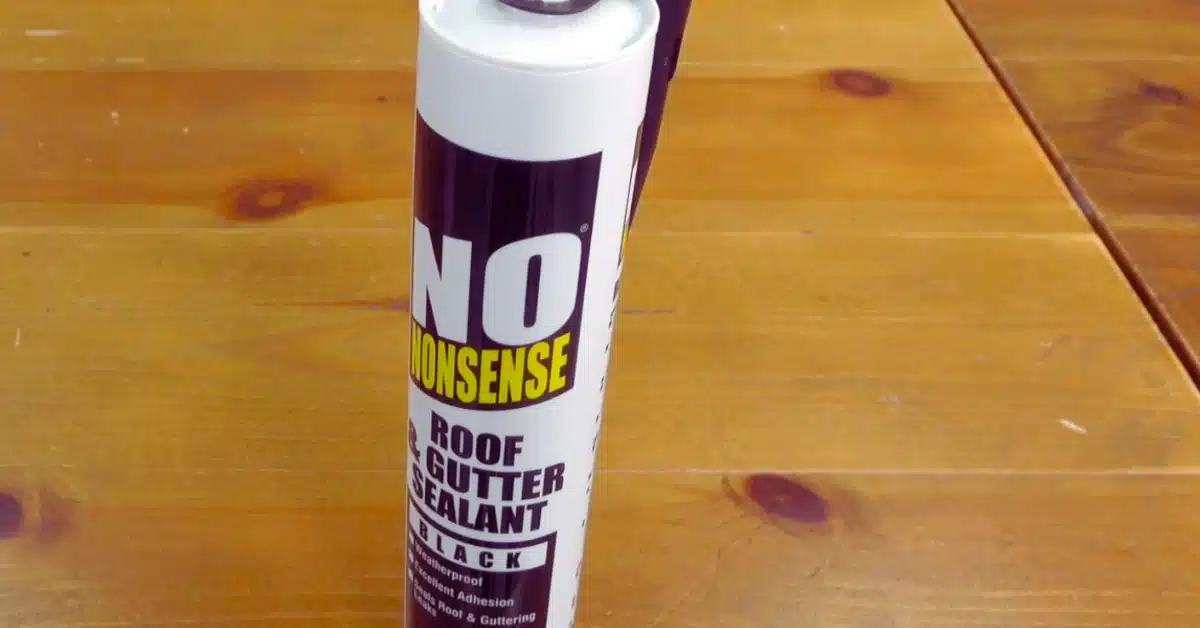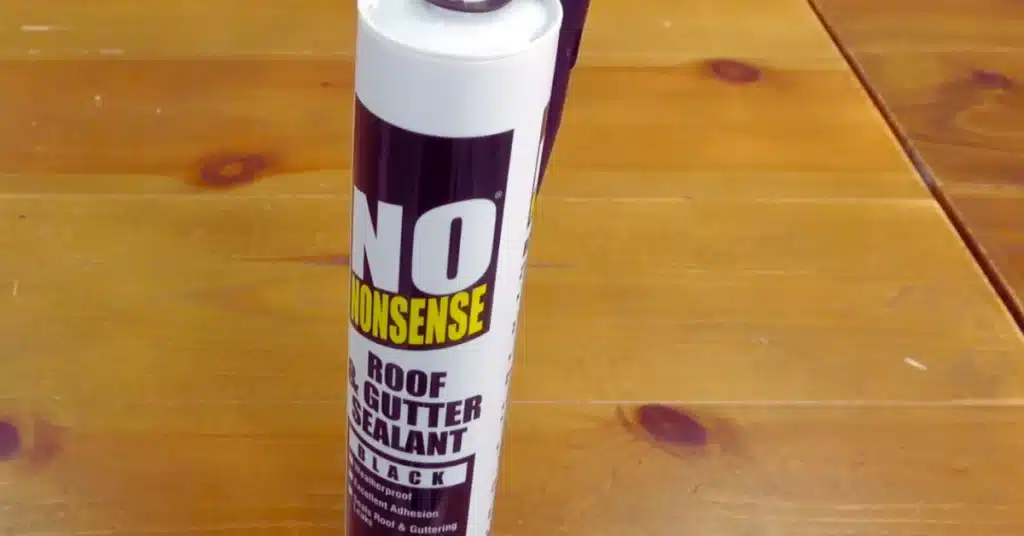 A gutter sealant is also used as a roof sealant. It creates an instant and permanent weatherproofing bond on several roofing projects.
The best thing is it can be applied in wet conditions, semi-wet surfaces, and under heavy rain.
The gutter sealant is good for multiple materials like wood, fiberglass, masonry, metal, brick, concrete, stone, aluminum, brick, and more. So, it covers almost all the areas of the house.
It is not only famous for its versatility. It has many other features that make it unique. It forms a water-resistant seal and is permanently flexible. Also, gutter sealant becomes mildew resistant when cured.
So, to get a watertight seal on any holes or cracks, and get the paintability facility on different interior and exterior surfaces, a gutter sealant is the best choice.
All you need is to get rid of the old caulk then apply the gutter sealant by using a caulking gun, then leave it for 24 hours to dry, and you're all done.
The repairing process of the roof and gutter is easy with gutter sealant. 
Read More: Silicone Caulk vs. Sealant
About Silicone Sealant
Silicone sealant is a flexible, liquid form of an adhesive. It looks almost like a gel. It is made differently.
Silicone sealant has unique stability, and elasticity at low and high temperatures. When cured properly, silicone sealant creates a strong bond.
It needs time and patience to dry completely. The temperature should be between 40°F and 100°F and 5% to 95% humidity for a proper drying environment.
Within 24 hours, silicone sealant cures perfectly and creates a strong, long-lasting bond.
Also, silicone sealant has a resistance to moisture, chemicals, and weathering that makes it ideal for repairing and building projects.
Silicone sealant can be used on surfaces like metal, glass, and plastic. It is suitable for aquarium production and repair projects too.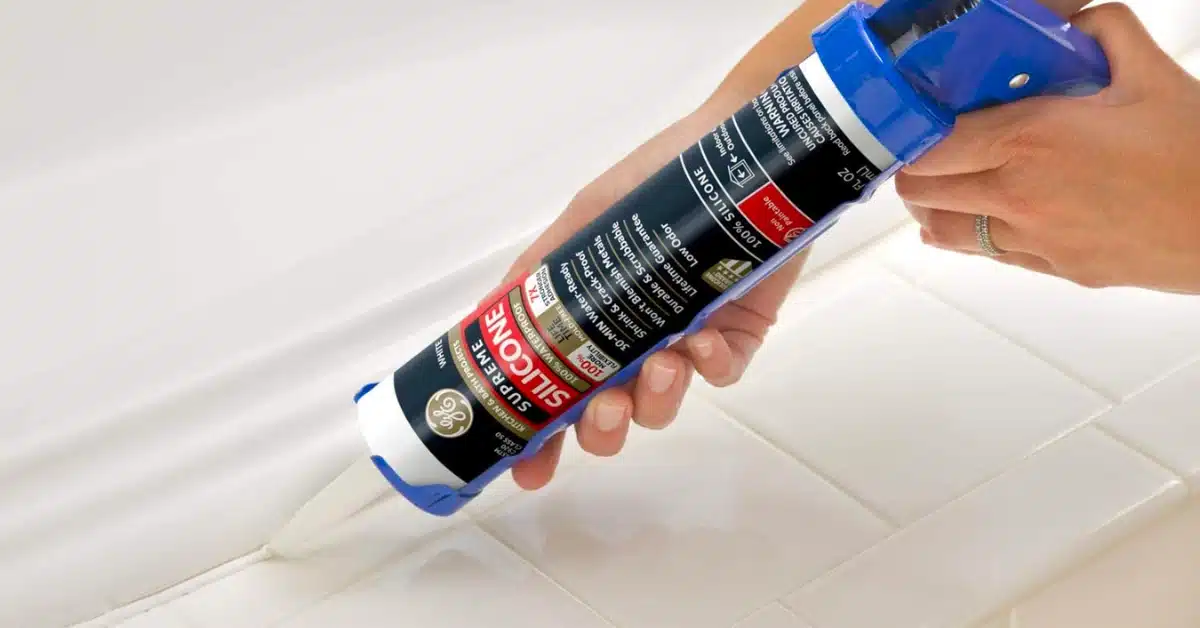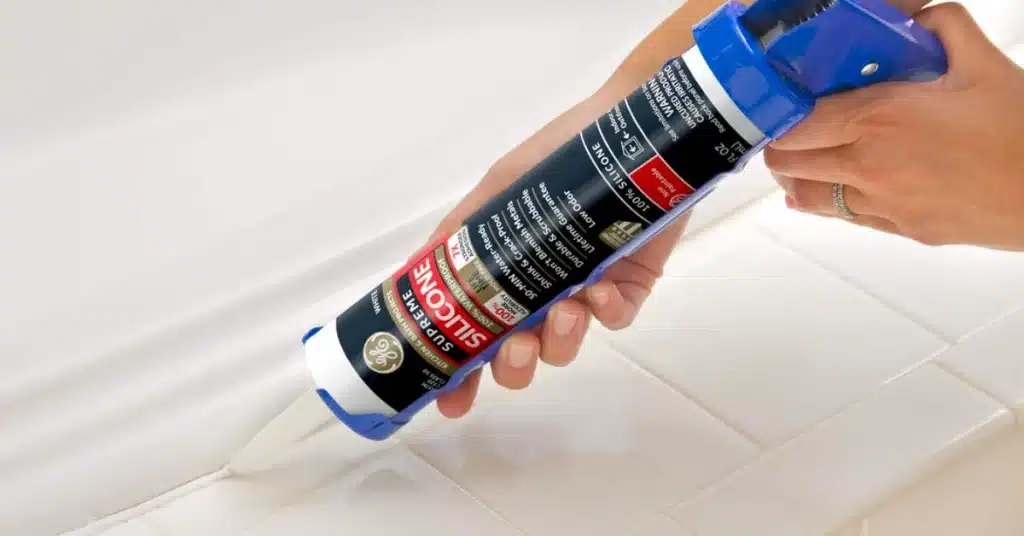 Silicone sealant comes in different types, such as multipurpose, electric grade, high-temperature, and more.
For its high workability, it becomes the best for use on multiple materials like glass, concrete, metal, ceramics, brick, and plastic.
Not only that, silicone sealant is used in engineering applications, and aerospace as well.
Overall, it is the best for various reasons and you can make it work on multiple surfaces to get the desired benefit.
What Is The Difference Between Gutter Sealant And Silicone Sealant?
Gutter sealant and silicone sealant are completely different products. Silicone sealant cannot be used on gutter repairs.
Gutter sealant is suitable for dry surfaces, and silicone sealant is for wet surfaces. The compatible materials of gutter sealant are metal, wood, fiberglass, aluminum, metal, masonry, concrete, stone, and more.
On the other hand, the compatible materials of silicon sealant are metal, glass, ceramic, concrete, plastic, and brick. Almost all the materials are the same as a gutter sealant.
However, the gutter sealant doesn't work well on plastic, and silicone is not good with wood. Besides, you cannot paint silicone sealant, but the gutter sealant can be painted.
So, if you want to match the color of the sealant by painting it, the gutter sealant is the better one for your household projects.
One problem with silicone sealant is nothing can stick to it once it's dry, not even additional silicone adhesive or sealant. So, if your project needs reapplication, make sure to avoid silicone.
Especially for gutters, silicone sealant is not a good choice. So, the wise decision will be to choose gutter sealant for gutters and roofs and silicone seal for a watertight seal on dry surfaces.
Last Opinion
Now that things are clear about Gutter sealant vs. Silicone, you can select the right one for your job.
For any leak repairs, gutter sealant is a better option. And for any gap-filling process on dry materials, silicone sealant is more than good.
So, know the purpose and condition of the surface, then choose accordingly. Avoid rushing to any random sealant because if it's not the right one, the repair won't last.
For the best results, get the right sealant and apply as instructed!