If you are confused about using Goo Gone on clothes, this article is for you. Can you use Goo Gone on clothes & how to use it?
Well, Goo Gone is a surface and fabric-safe adhesive remover. You can use it on clothes to remove adhesive stains, sticker glue, stains, and more. You can also use it on dinnerware, tables, and different hard surfaces as well.
As it comes in a liquid formula, it becomes easier to apply. All you need is a little bit of guidance and some tricks to follow. Besides, it is good for easy cleanup.
To know how to apply Goo Gone adhesive remover and how you can use it on clothes, get into the deeper discussion and the method below.
Read More: How to Get Rid of Goo Gone Smell?
Can You Use Goo Gone on Clothes?
You can use Goo Gone on fabrics, carpets, upholsteries, and rugs. Goo Gone is a surface-safe product.
As it comes in a liquid formula, you can easily spray it on the cloth and get rid of any glue residue, stain, or any other mess.
The benefit of using Goo Gone is it doesn't harm the material. Also, it has an incredible glue-removing strength. It is not only good for clothing but also tables, and dinnerware.
From removing glue, tar, and grease to gum, stickers, and crayons, Goo Gone does its best. However, it is not recommended to use leather, silk, suede, and rubber.
Moreover, you shouldn't use this product while wearing the clothes. You need to remove the stain as much as possible then get it into the launder to wash it thoroughly with detergent.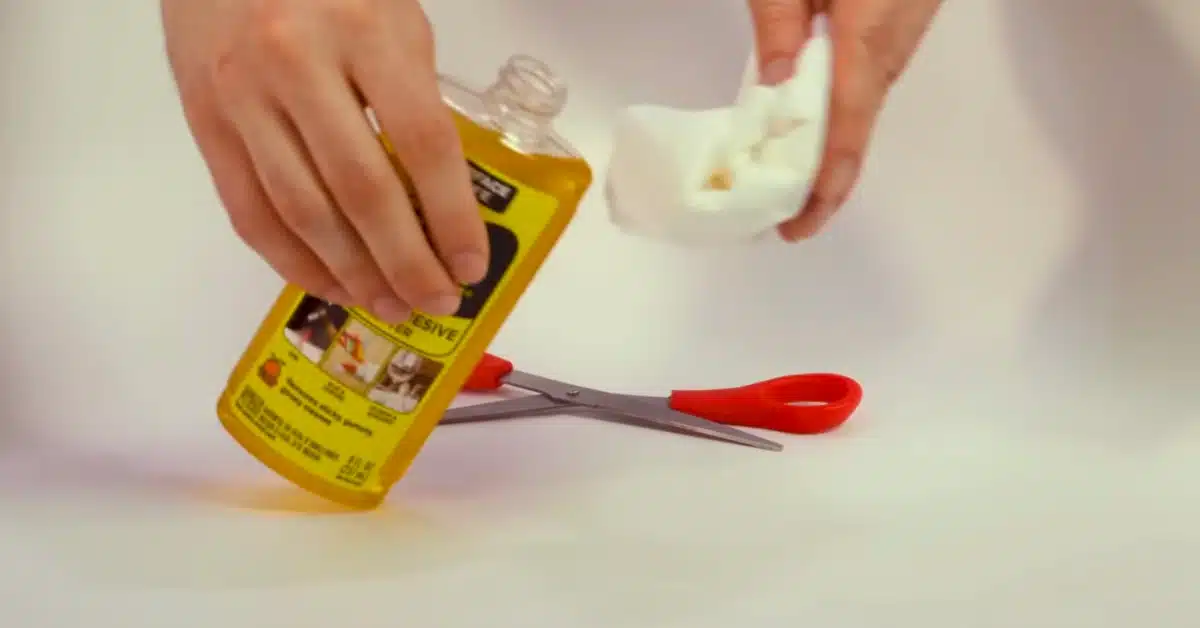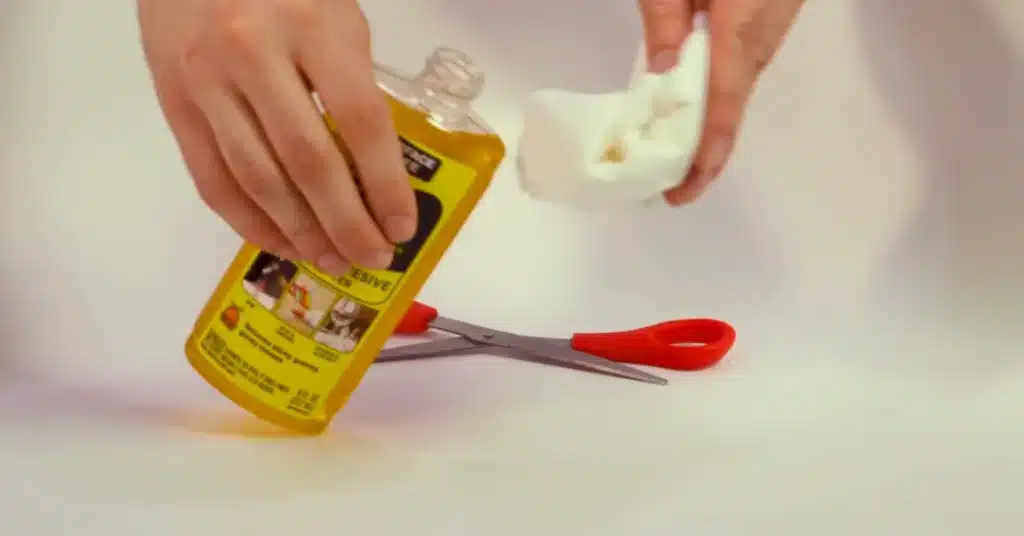 How to Use Goo Gone on Clothes?
Using Goo Gone is easy. It is good for hard surfaces as well as fabrics. To know how to use Goo Gone on clothes and any other fabric, check out the method below.
Step 1: Arrange All The Ingredients
First, you need to be prepared with all the things you will need when doing the cleaning process.
Get the Goo Gone remover, a brush, soft cloth, and laundry detergent near you before starting the cleaning.
Step 2: Test first
Always remember to pre-test on the cloth. People generally ignore this thing, but it's important to know if it's suitable for the fabric or not. So, always pre-test first to avoid ruining the fabric.
But you must avoid using it on materials like silk, leather, and suede.
Step 3: Apply The Glue
After pre-testing, if everything is fine, you can now apply the Goo Gone remover on the area where the glue residue or stain exists. Leave it for a few minutes to loosen the glue for easy removal.
For sticker residue, you need to let it sit for a longer time.
Step 4: Blotting
Now, you need to blot the area with the help of a soft cloth. It takes away all the Goo Gone residue and helps to fade the stain.
Besides, you should use a brush for a mild scrubbing. It is highly recommended for sticker residue. Take any brush and scrub it well for an effective removal.
Step 5: Wash
As a final step, wash the cloth in the same way you wash any other cloth. Use detergent, and make sure you don't wash it with other clothes.
Wash it separately with a generous amount of detergent and water. And it's done. It's the easiest way to get a perfectly clean and stain-free cloth with Goo Gone. 
Read More: Can You Use Goo Gone on Wood?
Will Goo Gone Remove Stains?
Goo Gone is an adhesive and stain remover. It removes different types of stains from hard surfaces like glass, wood, plastics, fabric, upholstery, carpets too.
To get rid of tough stains that come from blood, food, ink, crayons, juice, grass, or pets, Goo Gone can remove it all.
What Can I Use Instead of Goo Gone?
Goo Gone is a great product. But if you don't have this product near you, you can make a homemade solution that will work the same.
To make the homemade solution, you need to mix ⅛ cup of vegetable oil, ¼ cup of baking soda, and 3-4 drops of citrus essential oils.
Apply this solution to the area of the cloth and leave it for some time. Wash it off afterward, and it's done. You can store this solution for some days in an airtight container for further use.
Does Goo Gone Remove Oil Stains from Clothes?
Goo Gone is a powerful and effective remover to get rid of glue, sticker residue, stains, and more. It is great for both fabrics and hard surfaces. It can also remove grease and oil.
Use the product as instructed, and you can have the best outcome and an instant removal. If nothing works on removing oil from clothes, Goo Gone is the best solution to get all the stains out.
Last Opinion
Now that the things about Goo Gone are clear, you should follow the instructions well. If you want to know everything about whether can you use Goo Gone on clothes and how to use it, this is the article for you.
Follow the guidelines and the simple steps of this method to get rid of the stain and glue residue easily.
If you maintain the steps properly, hopefully, you will get the best results and new-looking clothes.