Taking care of your vehicle and ensuring that it runs well is something that you'll want to do whether you depend on it every day or use it as a weekend toy.
Back when gas tanks were made of metal, gas tank repair was easy at home with some tools and persistence.
Today, plastic gas tanks are the norm, and fixing them requires some specialty products that aren't as readily available to your average Joe as they used to be.
Sometimes, though, accidents happen, and some accidents cause damage that can't easily be ignored or fixed. If you have damaged your gas tank, finding the best epoxy for plastic gas tank repair will be your first step toward getting back on the road in no time.
Luckily, plenty of options are available to you, so you can find what works best for your needs.
Read More: Best Epoxy For Basement Floor
What is The Best Epoxy for Plastic Gas Tank Repair? [ Fuel Tank Repair Kit ]
Among all the best products I have mentioned here, J-B Weld 2110 Metal Fuel Tank Repair Kit is the great one. JB Weld is water-resistant and 100% gasoline-resistant as well. When it is fully cured, it gets these resistant features. Also, it is chemical like petroleum-resistant too.
These are the features that JB Weld is famous for. Some other good brands of epoxy bonds, too, such as Gorilla 2-part epoxy glue, Loctite epoxy plastic bonder, GOOP automotive adhesive, and rhino glue. These adhesives help to build a durable bond on plastic and repair any damage nicely.
Talking about JB Weld epoxy, you can also use it on plastic fuel tanks. It includes some fantastic adhesive properties that are good for the plastic fuel tank. Making a durable and sturdy repair, JB Weld is the best plastic gas tank repair glue for sure.
Read More: How To Fix A Hole In A Plastic Gas Tank?
Best Epoxy for Plastic Gas Tank Repair – Top 3 Reviews
J-B Weld 2110 Metal Fuel Tank Repair Kit
Blue Magic 6522KTRI QuikSteel Plastic Tank Repair Kit
J-B Weld 8217 TankWeld Gas Tank Repair
A lot of good epoxy for repairing plastic gas tanks is available out there. But I am going to show you the best 3 of them in this post. Check out the review first.
#1. J-B Weld 2110 Metal Fuel Tank Repair Kit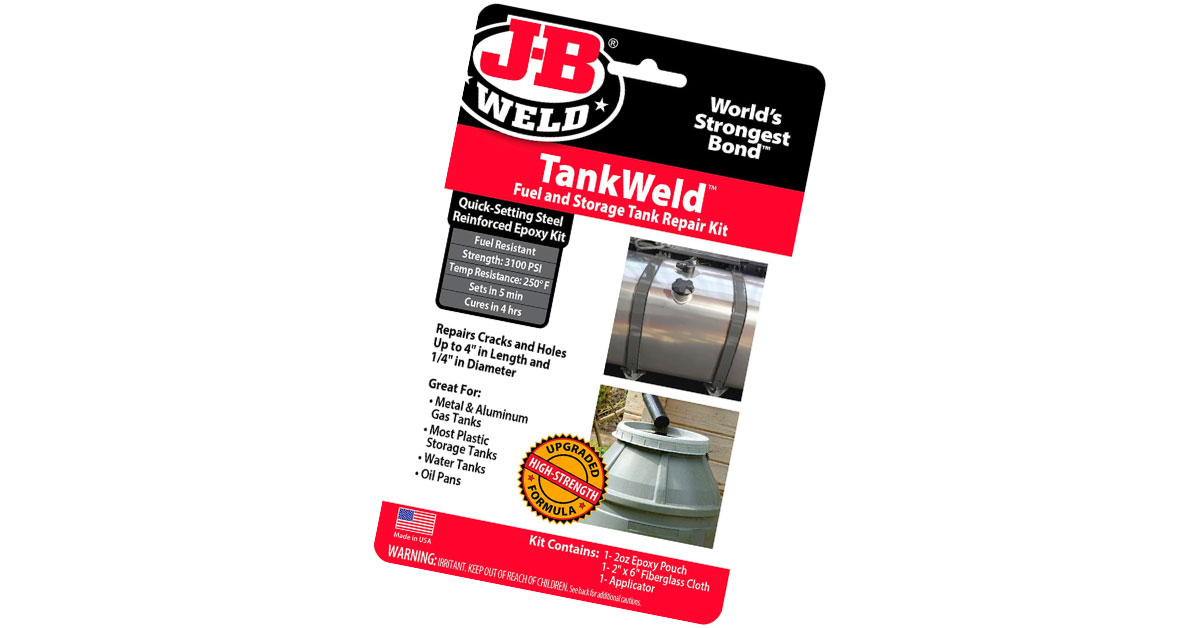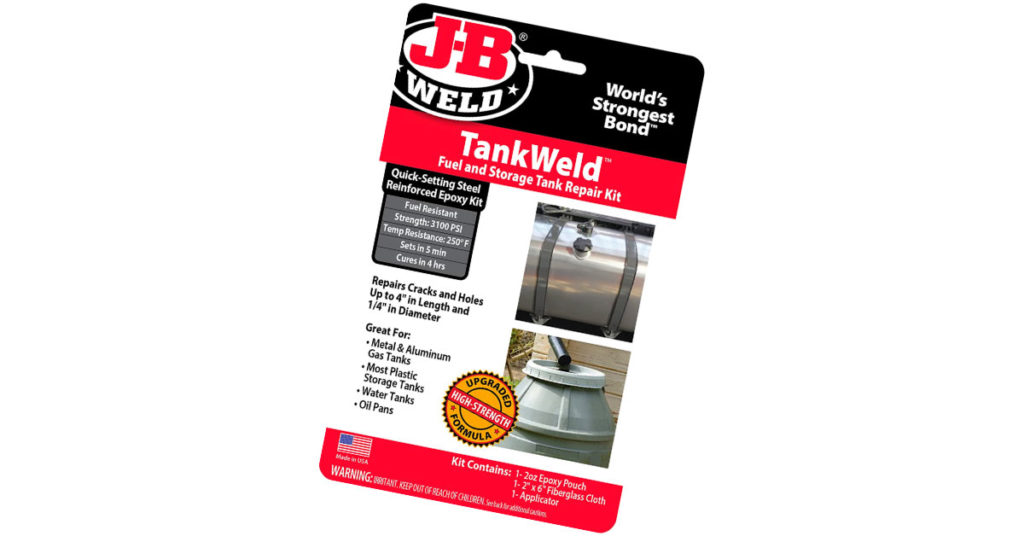 J-B Weld 2110 Quick Rundown
| | |
| --- | --- |
| Color | Gray |
| Connector Type | Weld |
| Strength | 3100 PSI |
| Compatibility Repairs | Gas tanks, oil pans, water tanks, plastic tanks, aluminium and metal |
| Setting Time | 5 minutes |
| Curing time | 4 hours |
| Refund Policy | 30-Day replacement, refund, or return policy |
J-B Weld 2110 Review
JB Weld tank repair kit is a good one to repair your fuel tank, oil pan, water tanks and more. It is also suitable for plastic gas tanks. When it comes to preventing the leaking of your plastic tanks, this kit will surely save you from the situation.
The major benefit of the product is no welding is required to fix the broken tank. Repairing the tank becomes more accessible with the JB Weld fuel tank repair kit. The bond is ready to use for tank repair. Besides, the product is petroleum-resistant.
As a result, combine it with epoxies and apply it to the affected areas of the tank. After that, leave it to dry correctly, and that's it. There is no need to remove the tank. It's an easy, fast, and simple process.
The metal fuel tank repair is an excellent bond on several surfaces like aluminium, metal, water tanks, oil pans, most plastic tanks, and more. In this kit, there is the product and equipment that is needed to make a professional bonding.
Get the permanent repair with the art of the JB bond. Follow the easy steps with detailed instructions and apply the bond according to it. The product is a reliable one as the brand has been famous for more than 40 years.
JB is considered the world's strongest bond. Each product is made with quality and innovation. So, getting the best quality and the permanent bond on the tanks is possible with JB. The process is simple. There is no removal of gas required when trying to stop leaks. Fixing the parts is easy.
The package includes epoxy putty, sandpaper, fiberglass cloth, and an applicator. All the essential things are attached to the kit, that makes the product portable and handy. Furthermore, it is a versatile one. It works great on the tanks by creating permanent bonds.
The other thing is the product is hand-mixable. It is a non-rusting epoxy that builds quick repairs. To set it properly, it needs just 5 minutes. So, make sure you hold the parts in the right place before drying out. Within 4 hours, it will be cured entirely and create a permanent bond.
After that, the place can be tapped, filed, drilled, machined, and even painted. Ensure to follow the proper instructions of the plastic gas tank repair kit and get a good outcome.
J-B Weld 2110 Pros And Cons
Pros
Repairs holes and cracks
Handy and portable
Short repairing time
Great for multiple tasks
Cons
Sets fast, so you need to work fast
Read More: Best Epoxy For Plastic Bumper Repair
#2. Blue Magic 6522KTRI QuikSteel Plastic Tank Repair Kit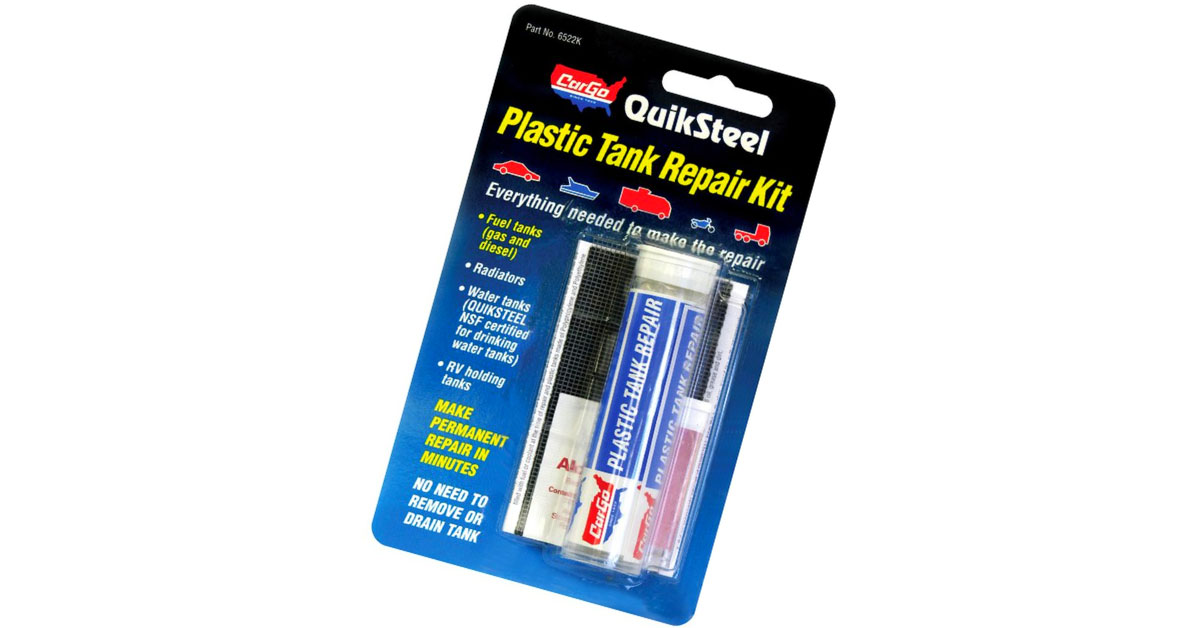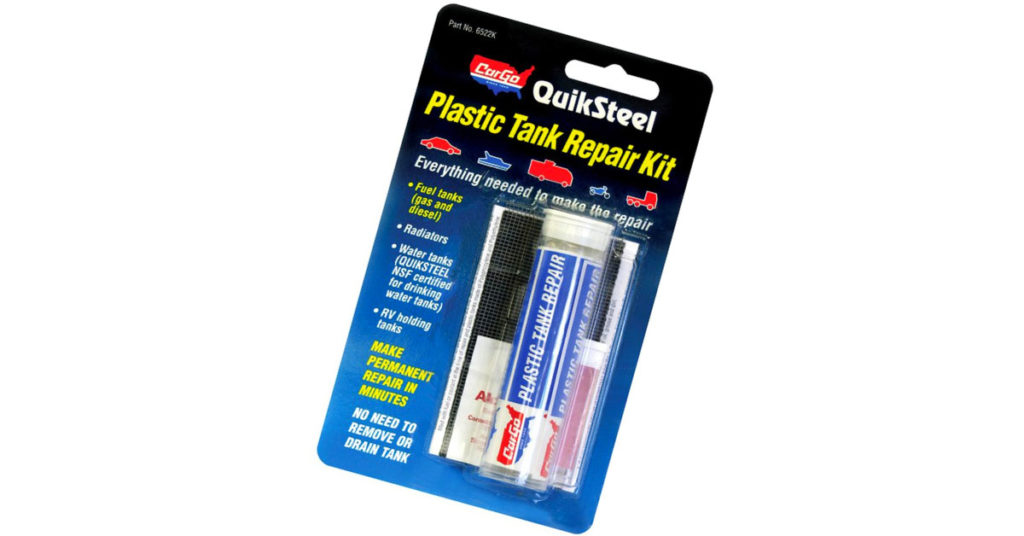 Blue Magic 6522KTRI Quick Rundown
| | |
| --- | --- |
| Strength | 5,950 PSI |
| Resistant | 500°F/260°C |
| Bond Holds to | -90°F/-68°C |
| Cure Color | Gray on metal, off white on plastic |
| Set Time | 5 Minutes |
| Full Cure Time | 1 Hour |
Blue Magic 6522KTRI Review
Blue Magic Quiksteel repair kit is one of the most effective repair kits you can ever have. The quick steel plastic fuel tank repair has many good features. It comes in 2 Oz containers and is white in color.
The bond helps repair heavy-duty, industrial, home, automotive, marine situations, and more. This kit includes the cement, alcohol swab pad, saddle soap, sandpaper, and screen. It originated in the United States with good-quality products and proper instructions.
Besides, it is easy to make the mixture like a putty bond. But when using it, the bond is like epoxy. The kit has everything that is needed to repair any significant leaks. Moreover, it is oil, fuel, diesel, water, automotive fluids, gasoline, coolant, and solvent-free.
The bond from Blue Magic takes 5 minutes to set and 1 hour to cure completely. After that, it can be tapped, drilled, filed, sanded, painted and machined. For any plastic or metal repair, the product helps you a lot. It is easy to use and quick to set as well. To get a stronger bond, use the product and apply it according to all the instructions.
Blue Magic 6522KTRI Pros And Cons
Pros
Easy to use
Strong bond
Quick adhesion
Can set up underwater
Cons
It may be challenging to hold the damaged part if the instructions are not properly followed
Read More: Best Epoxy For Plastic Radiator Repair
#3. J-B Weld 8217 TankWeld Gas Tank Repair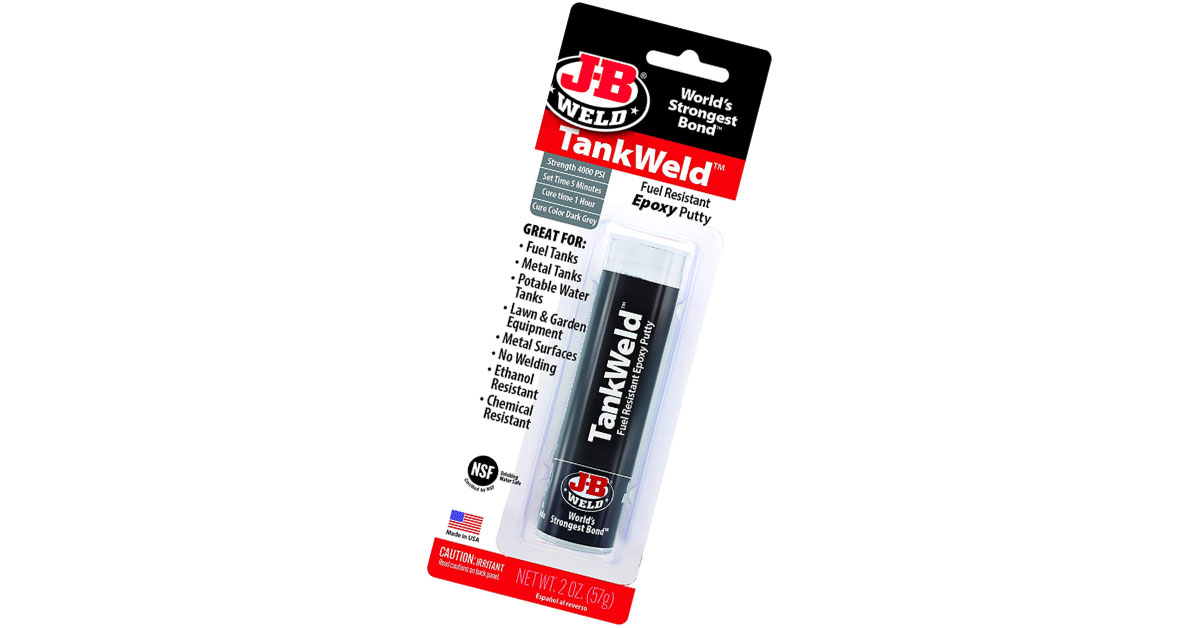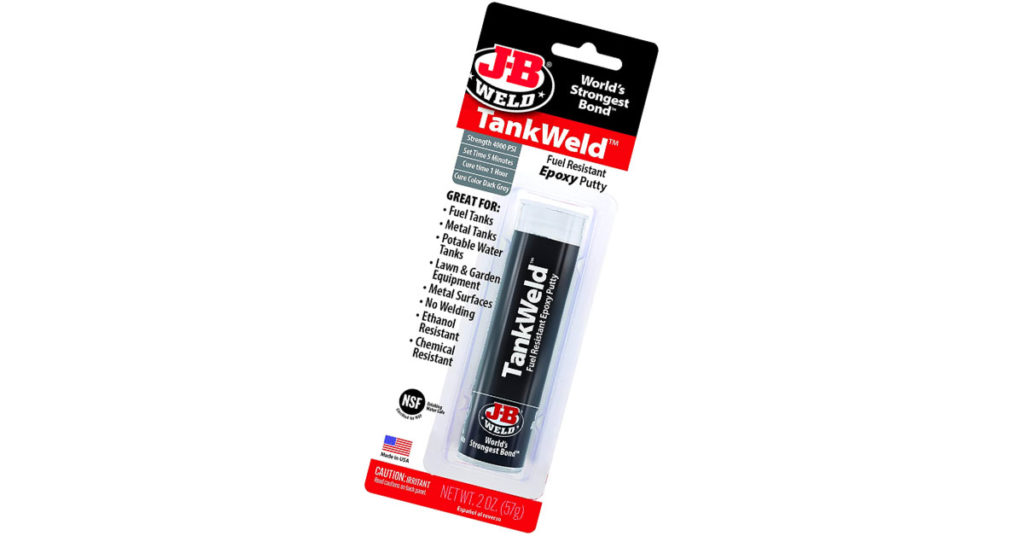 J-B Weld 8217 Quick Rundown
| | |
| --- | --- |
| Color | Dark Grey |
| Package Type | Tube |
| Resistance | Harmful chemicals like hydraulic fluid, petroleum, and more |
| Usage Radiators | Gas tanks, water tanks, garden and lawn equipment, and metals |
| Set Time | 5 minutes |
| Cure Time | 1 hour |
| Strength | 900 PSI |
J-B Weld 8217 Review
The JB weld for a plastic gas tank is a steel-inforced, hand-mixable, and non-rusting epoxy putty bond. It works great on multiple materials. If anything is made of metal, the product can bond healthy and quick repair. When mixing it properly, it transforms into an industrial polymer compound.
Molding the compound into shapes is easy to patch and repair the tanks. It takes 5 minutes to set up and 1 hour to cure. After properly cured, the fixed part can be drilled, filed, ground, machined, and painted. The curing color becomes dark grey. So, if you want to modify it with a different color, go for it.
Besides, the lap shear strength of the product is 900 PSI. It can take temperatures up to 300°F. There isn't enough. It includes more features than that. The most useful one is that it is chemical resistant. It has resistance against hydraulic fluid, petroleum, and more harmful chemicals like this. That's the feature it's famous for.
Further, it is NSF certified. It is secured to contact with potable water. The formula is helpful to stick to hold and create an excellent bond to repair the part. It can be shaped, molded, drilled, tapped, and sanded. Metals like aluminum, copper, stainless steel, brass, bronze, and iron are compatible materials that are easy to repair with JB Weld for plastic gas tank.
You can DIY the process with heavy-duty epoxy. Get superior quality, experience, and the strongest bond with the JB plastic tank repair epoxy.
J-B Weld 8217 Pros And Cons
Pros
Hand-mixable
Easy to apply
Chemical-resistant
NSF Certified
Cons
Quickly solidifies and gets hot
Read More: Best Weatherstrip Adhesive
Is Epoxy Good for Plastic?
Yes, epoxy is excellent for plastic. When using epoxy on plastic, it can seal the area quite well. Epoxy plastic gas tank repair putty has some interesting factors to look at. These are useful for many other materials, including metals as well. Besides, it can withstand temperature changes.
Use epoxy bonds on plastic gas tanks to seal the damaged or any opening area. Another good feature of epoxy is its versatility. You can use it for various projects and on multiple materials as well. It gives the surface of the tank much durability and strength.
Can You Epoxy A Plastic Gas Tank?
You can surely epoxy a plastic gas tank. To repair any cut, crack, gauge, or hole in a plastic gas tank, using an epoxy bond is the easiest way. Make sure you take good-quality epoxy to fix the place.
When it's about sealing any surface, there are many adhesive options out there. However, not all products work for everything. You need to check the details and get the perfect product for your job. Make sure the quality of the product is good.
A good-quality epoxy must have qualities like durability, waterproof feature, gasoline resistance, and more. The gas-resistant epoxy for plastic works pretty well too. After properly covering the area of the tank, leave it to dry out properly. After curing the epoxy, you can color, drill, sand or anything you want to give it the final finish.
The importance of using an epoxy bond or an adhesive is unutterable. Using epoxy is a wonderful way to seal the tank. Ensure to be careful when using it on gasoline tanks. Also, you should know that some epoxy bonds are useful for fixing small gauges. It may not be as helpful for more extensive damage as for smaller ones.
Last Opinion
When it comes to sealing plastic tanks, there are a few options you can go for. I recommend some of the best products here.
Check out the reviews again and again of the best epoxy for plastic gas tank repair, then decide what is suitable for your repair job. 
Get the best one and do your task correctly. 
Can I use J-B Weld on a plastic gas tank?
Yes, some J-B Weld products, like J-B Weld PlasticWeld, are designed for plastic repairs and may work on a plastic gas tank. However, repairing a gas tank can be complex and safety-critical.
It's usually best to replace a damaged fuel tank or seek professional help. If you attempt a repair, do so in a well-ventilated area, away from ignition sources. Always follow the manufacturer's instructions.

Can you use Permatex fuel tank repair on plastic?
Permatex Fuel Tank Repair is typically meant for metal tanks and might not work well on plastic. Always check the product's specifications. Remember to work safely when dealing with fuel tanks.